Army Backs South Africa Police to Stem Attacks on Immigrants
Andre Janse van Vuuren and Lutho Mtongana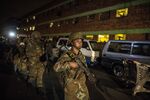 South African army troops backed up police in a clampdown on anti-immigrant violence in a Johannesburg suburb in the first military deployment to stem civilian unrest in seven years.
Police with military support arrested 11 people and confiscated guns and stolen property in connection with attacks against immigrants during an overnight raid in the Jeppestown suburb, Kay Makhubela, a spokesman for the South African Police Service, said Wednesday by phone. Nationwide, at least seven people have died in the violence this month.
"Right now it is calm, but we are continuing to monitor the area," Makhubela said. The raid brought the number of people arrested in connection with the attacks that have swept across the country to at least 318.
South Africa is facing its worst anti-immigrant attacks since 2008 as mainly foreign shop owners in townships are being driven from their businesses. President Jacob Zuma canceled a state visit to Indonesia this week to deal with the crisis. Some poor citizens see foreigners as competitors for jobs and businesses opportunities in a country with a 24 percent unemployment rate and an economy hit by rolling power blackouts.
Governments across the continent have condemned the attacks and called on South African authorities to do more to contain the violence. Nigeria's foreign ministry summoned South Africa's high commissioner in the West African nation over the violence, the Nigerian government said in an e-mailed statement on Wednesday.
Human Rights
Integrating foreign nationals into communities is the best option to curb xenophobic attacks, African National Congress Deputy Secretary General Jessie Duarte told reporters in Johannesburg.
"We are looking for something that will be long lasting that will both enable the government of SA to manage the human rights of all foreign nationals," she said.
ANC Secretary General Gwede Mantashe said last week the government should set up refugee camps to deal with the influx of foreign nationals in the country.
While the government blames criminals rather than xenophobia for much of the violence, the presence of thousands of immigrants in South African townships has stoked resentment among some locals.
Defense Minister Nosiviwe Mapisa-Nqakula described the violence as "an emergency" in televised comments Tuesday during a visit to Johannesburg's Alexandra township where a couple from Zimbabwe was shot late Monday.
Before it's here, it's on the Bloomberg Terminal.
LEARN MORE