Aleynikov Ends Trial Arguing Taking Goldman Code Not Crime
Chris Dolmetsch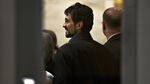 Former Goldman Sachs Group Inc. programmer Sergei Aleynikov admits he shouldn't have taken the bank's high-frequency trading code when he quit. The admission doesn't mean he broke the law, his lawyer said.
Aleynikov violated Goldman Sachs' policies by copying 32 megabytes of code, transferring the data to a server in Germany and then downloading it to his home computers, his attorney, Kevin Marino, told a New York state jury in Manhattan at the end of a trial on charges the programmer stole the code.
"Anybody with an ounce of common sense" wouldn't have violated Goldman Sachs' confidentiality policy, Marino said, "because it covered everything."
"Is a violation of a company policy a crime?" he asked. "No, it's not."
Aleynikov, 45, is charged with unlawful use of secret scientific material and unlawful duplication of computer related material. He faces as long as four years behind bars if convicted.
FBI agents arrested Aleynikov at Newark Liberty International Airport in New Jersey in July 2009 as he returned from Chicago. He had taken a job with Teza Technologies LLC, the firm founded by former Citadel Investment Group LLC high-frequency trading chief Misha Malyshev.
Eight Years
Convicted by a jury in Manhattan federal court in 2010, Aleynikov was sentenced to eight years in prison. In 2012, while he was locked up, his conviction was reversed by the U.S. Court of Appeals in New York, which said his alleged actions didn't break the federal law he was convicted of violating. Six months later, Manhattan District Attorney Cyrus Vance Jr. charged Aleynikov under state law.
Assistant District Attorney Daniel Holmes told jurors in his closing argument that Aleynikov stole the equivalent of "decades of work" by Goldman Sachs programmers so "he could come back later and use it at his new job." It took him 1.12 seconds to do so, the prosecutor said.
He directly answered Marino's arguments.
"If Goldman Sachs had a policy that you cannot assault your co-workers, does that mean if someone is assaulted they can't call the police?" he asked. "Of course not."
The case is New York v. Aleynikov, 04447-2012, New York State Supreme Court, New York County (Manhattan).
Before it's here, it's on the Bloomberg Terminal.
LEARN MORE