After Record Drought, Dengue Fever Is Now Sweeping Across Sao Paulo
By and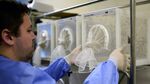 For six months, taps ran dry 12 hours a day in Gregori Pizzanelli Leccese's Sao Paulo neighborhood. Many residents stored water just to get by.
It's no wonder the mosquito population exploded — and so did dengue fever, he said.
"I've seen a major increase of mosquitoes in the city over the past five years," said Leccese, 28, who runs a clothing manufacturer with his father. "There's no more fumigation like there used to be. I see nothing about prevention education anywhere."
Leccese is among the 460,500 Brazilians who caught the potentially deadly disease this year through March 28, more than triple the number a year earlier, the Health Ministry said (PDF). Eight thousand of Sao Paulo city's 12 million residents already have been infected, and the city forecasts 82,000 more cases, almost all in the next few months. The ministry said in March more than 300 other municipalities also are at risk of an epidemic. 
The outbreak of dengue that's sweeping across Sao Paulo state, which accounts for a third of Brazil's gross domestic product, coincides with a steady erosion of the standard-of-living gains Brazilians have enjoyed in the past decade. The state's 44 million residents also are grappling with stagflation, spending cuts and a corruption scandal that's engulfing the state-run oil company, Brazil's biggest builders and leading politicians.
While dengue affects tropical nations the world over, from Singapore to Colombia, the water shortage in Sao Paulo is exacerbating the problem, said Alessandro Giangola, coordinator of the city's program to control the mosquito that transmits the virus. About half of Sao Paulo city residents complained of water cutoffs in a survey conducted by polling company Datafolha released in October, before Brazil's seasonal rains arrived in February.

The rainfall has eased shortages, but many residents still store drinking supplies in pots, drums and tanks. That may be worsening the outbreak because the water can be breeding grounds for mosquitoes carrying the virus, Giangola said. Increased travel and exposure to strains of the virus for which the population has no immunity also are contributing to the spread, said Giovanini Coelho, who coordinates the federal Health Ministry's dengue-control program.
More than half of Brazil's cases are in wealthy Sao Paulo state. Last year, the state accounted for about a quarter of infections, the ministry said.
As Sao Paulo's main reservoirs dried up amid the worst drought in eight decades, President Dilma Rousseff and Sao Paulo Governor Geraldo Alckmin, of the opposition Social Democratic party, sparred over blame before the October elections. Only after both were re-elected did they promise to cooperate and signed contracts for new pipes to integrate systems.
Alckmin's press office didn't respond to requests for comment, and Rousseff's declined to comment on whether politics influenced the federal government's response to the water crisis.
The government could have done more to stop leaks from the water system, Leo Heller, the United Nations special rapporteur for water and sanitation rights, said in a December interview. About 31 percent of treated water escapes from the Sao Paulo utility's network — more than a third caused by illegal siphoning.
Until recently, Sao Paulo resisted restrictions that U.S. states such as California have enforced, including requiring restaurants to serve water only when asked and setting specified days when homeowners may water their lawns. The state government announced in December — almost a year after the drought began — that users would be fined for increasing water consumption. 
All this leaves city health officials battling the worst-ever outbreak of the disease just as Rousseff prepares a package of sweeping spending cuts. Some limit how many new resources go into controlling diseases such as dengue, said Duane Gubler, a professor in the emerging infectious-diseases program at Duke University-NUS Graduate Medical School in Singapore.
"Look at the size of Sao Paulo state: There's no government in the world that has the resources to deal with that," Gubler said in a phone interview. "You're never going to effectively control the disease until you have the help of the people in their houses." 

Meanwhile, public clinics are straining under the surge. The hospital in the city of Limeira is using temporary structures it set up outside for dengue-infected patients, a Globo TV affiliate station reported.
Sandra Regina Martins, a 53-year-old retired nurse's assistant, said her doctor diagnosed her with dengue late last month after a bite from a mosquito and complications from a medication caused a hematoma that turned her hand purple. 
She went to a hospital in Araras, Sao Paulo state, and waited with about 60 other people complaining of similar symptoms: weakness, nausea, diarrhea and body pain. After three hours without being seen, she returned home. 
"The hospital itself was full of mosquitoes; who's to say those mosquitoes don't have dengue?" Martins said. "It's getting out of hand."
In the first 12 weeks of this year, 132 people died from the disease, 29 percent more than a year earlier, the Health Ministry said in an e-mail. Early detection and access to medical care can push the fatality rate below 1 percent, the World Health Organization says.
While the government has increased spending on health care, it's still below that of many developed nations. Expenditures as a percentage of GDP rose to 9.3 percent in 2012, the most recent year for which WHO data are available, up from 7.2 percent a decade earlier. The share is about 18 percent in the U.S. and almost 12 percent in France.
During the past decade, Brazil's Human Development Index — with metrics including life expectancy, years of school and income equality — also has improved consistently, according to the United Nations.
Still, when protests drew more than 1 million people in 2013, there was a common refrain: more education, health and infrastructure. More than 1 million people took to the streets again last month to rally against corruption and growing economic hardship, and some demanded Rousseff's impeachment. 
Brazil's economy grew 0.1 percent in 2014 and is projected to shrink 1.03 percent this year, according to a central bank survey published April 20. Inflation in the 12 months through March reached 8.13 percent, the fastest in more than a decade.

Sao Paulo city is sending out 2,500 dengue-control agents to fumigate and talk to homeowners, but with 12 million residents, it's an uphill battle. At least one in five homes they visit denies them access, said Giangola, coordinator of the program.
Piracicaba, about 98 miles from Sao Paulo city, enlisted U.K.-based Oxitec Ltd. to release millions of genetically modified male mosquitoes. The bugs possess a gene that prevents their offspring from developing, essentially contaminating the mating pool with sterility.
Oxitec will release the transgenic mosquitoes in just one neighborhood, accounting for less than 2 percent of the city's 365,000 residents.
"Most of the community understands the problem of dengue: They have it, their parents have it, their children had it at least once," said Guilherme Trivellato, the company's supervisor of production and field tests. "They're anxious for something that can help them."
Before it's here, it's on the Bloomberg Terminal.
LEARN MORE