Abe Meets Xi in Sign Historic Differences Won't Derail Ties
Isabel Reynolds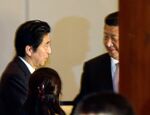 Japanese Prime Minister Shinzo Abe met Chinese President Xi Jinping for the second time in less than six months on Wednesday, in a sign his efforts to turn the page on Japan's past aggression won't derail an improvement in ties.
The longer-than-expected 29-minute meeting came hours after Abe barely mentioned remorse over World War II in a speech in Jakarta that will set the tone for his statement on the 70th anniversary of the end of the conflict. A day earlier he drew Chinese criticism after sending an offering to a Tokyo war shrine seen by many in China and South Korea as a symbol of Japan's past militarism.
"The development of relations between our countries is in the interests of the people of Japan and China," Abe said after the meeting. "By promoting strategic, mutually beneficial relations, we contribute to the stability and prosperity of the region and the world."
Xi's decision to meet Abe indicates he may be willing to avoid sparring over Japan's wartime legacy in favor of encouraging an improvement in ties that has accelerated since the two met in Beijing in November. The two sides have backed down from a risky standoff over disputed islands and resumed meetings between lawmakers and officials that had in some cases been frozen for years.
"This short meeting is a continuation of the one in Beijing, because both sides want to show their willingness to maintain a high-level dialogue," Liang Yunxiang, professor of international relations at Peking University in Beijing, said before the gathering. "The two countries have realized it's in their interests to maintain communications, to prevent the situation from worsening."
Body Language
The easing in tension was also reflected in their body language. The two men seemed more at ease than at their first meeting in November, when Xi seemed to scowl and avoid eye contact with Abe as they greeted each other for the cameras. This time they smiled and engaged in a vigorous handshake.
Trade ties between Asia's two largest economies have largely returned to normal and the number of Chinese tourists visiting Japan rose more than 90 percent in the Japan-March period compared with last year.
The number of Chinese government ships entering waters administered by Japan around East China Sea islands claimed by both countries fell to 9 last month, compared with a high of 28 in August 2013.
'Deep Remorse'
Abe touched on the "deep remorse" that inspired Japan's peaceful postwar policies in a speech Wednesday at the Asia Africa Conference in Jakarta also attended by Xi. The bulk of his five-minute address, however, was devoted to describing Japan's past and future efforts to cooperate with other nations.
He said in a television interview on Monday he would take a similar tack in a speech to the U.S. Congress next week and a statement planned to mark Japan's August surrender. While upholding Japan's past apologies as a whole, he sees no need to repeat specific language used by previous Japanese leaders, he told broadcaster BS-Fuji.
Xi told Abe during their meeting that he hoped Japan would treat the concerns raised by Asian countries earnestly, and send a positive message to the international community that Japan was responsible for the historical issues, according to China Radio International.
Japan occupied Korea for 35 years until the end of World War II, a conflict that killed more than 30 million people in Asia including more than 20 million Chinese. China and South Korea accuse Abe of playing down Japan's responsibility for the conflict and for atrocities committed by the Imperial Army such as the killing of Chinese civilians after the capture of Nanjing and the use of women as sex slaves for the troops.
Abe is also attempting to loosen Japan's postwar pacifist constitution amid territorial tensions with an increasingly assertive China. Last year, he ended a ban on defense exports and reinterpreted the 68-year-old constitution to allow Japan to defend other countries.
Before it's here, it's on the Bloomberg Terminal.
LEARN MORE