Verizon Bids Good Riddance to Customers Leaving for a Cheaper Deal
The company's planned video service is at the center of its strategy to thrive as America's expensive wireless carrier
by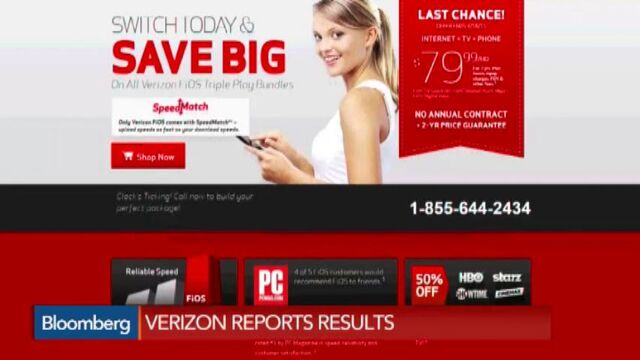 Verizon has something to tell the customers defecting to lower-cost competitors: Enjoy your inferior phone service.
The company reported on Tuesday that it had lost 138,000 postpaid customers in the last three months. Francis Shammo, Verizon's chief financial officer, apparently won't be missing customers who, he says, value price over quality.
"If the customer who is just price-sensitive and does not care about the quality of the network—or is sufficient with just paying a lower price—that's probably the customer we're not going to be able to keep," he said in the company's quarterly earnings call. 
The wireless industry is embroiled in a price war. While great for smartphone users, it's not great for  companies selling wireless connectivity. The average revenue per user across the industry fell 4 percent in the fourth quarter of last year, after adjustments for accounting changes, marking the biggest decline the industry has ever seen, according to research firm MoffettNathanson. But Verizon is holding its prices steady, even if that means losing out to Sprint and T-Mobile in the short term. 
Selling a premium product is a good business if you can get away with it. Apple doesn't sell the cheapest phones, and Porsche regularly "loses" customers to Chevy. This works, though, only if customers feel they're gaining something for the higher price tag.
Verizon has also been focused on bolstering its résumé with a new video service that's expected to hit this summer.  The plans have been in the works for some time and Verizon already has a mobile video deal with the NFL. Last January, it purchased Intel's failed Internet video business. The company is currently working to secure licensing deals with content companies for a broader mobile-focused video service. While Verizon isn't the only one to embrace this idea, it is pulling ahead, says Craig Moffett of MoffettNathanson. "AT&T is talking the talk about wireless video as part of their strategy with DirecTV, but Verizon looks poised to walk the walk," he wrote in a note to investors on Tuesday.
If Verizon can offer a novel video service, customers could be more willing to pony up a few additional dollars per month. It remains unclear how Verizon will structure the plans. Executives say they are looking into the possibility of a sponsored-data plan by which content companies would pay for the additional data usage so customers wouldn't have to—something that could raise eyebrows at the Federal Communications Commission. (Or maybe not). Customers might be willing to buy larger data plans if they like the video plan, or Verizon could offer pay-per-view plans whereby customers buy single shows or sporting events as add-ons to the monthly bill. Advertising is a further logical option. 
This isn't Verizon's first foray into the video business. Its FiOS service is an alternative to cable for broadband consumers. It recently announced a new series of plans for the service, allowing people to buy smaller bundles of channels in an attempt to appeal to cable malcontents. The move irked Disney, which didn't like where ESPN ended up in the new channel lineup. Conflicts with content companies always factor prominently into new Internet video services; it's why Intel's Internet TV business initially failed. For its part, Verizon says that any developments in the FiOS business come separately from its wireless video service. "I would not read into the custom TV package as a precursor to over-the-top video," said Shammo. "These are two very distinct ecosystems." 
Before it's here, it's on the Bloomberg Terminal.
LEARN MORE