Varoufakis Sees Differences Narrowing in Creditor Talks
Marcus Bensasson and Eleni Chrepa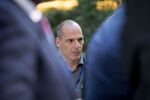 Greece and its creditors are narrowing their differences as officials on both sides recognize that the best chance for success is an accord that leaves them all somewhat unsatisfied, Finance Minister Yanis Varoufakis said.
"The convergence is absolutely clear," Varoufakis told reporters in Athens late on Tuesday. Both sides "have invested a huge amount in achieving an agreement, and neither they nor we will let the opportunity slip to arrive at an agreement that's clearly to the benefit of everyone."
Greece has been struggling to make progress toward releasing financial aid since striking a deal to extend its bailout program in February. The anti-austerity coalition government has repeatedly expressed confidence that a deal to free bailout disbursements was imminent, only for that to be refuted by euro-area officials seeking concrete steps.
German Finance Ministry spokesman Martin Jaeger said Wednesday that his government wants Greece to explain the delay in providing a comprehensive list of measures to improve the functioning of its economy. He said Germany has "very limited expectations" for Friday's meeting of European Union finance chiefs in Latvia.
The standoff has left Greek banks depending on European Central Bank emergency liquidity after losing more than 15 percent of their deposit base. The ECB on Wednesday raised the ceiling for Emergency Liquidity Assistance keeping Greek banks afloat by about 1.5 billion euros ($1.6 billion) to 75.5 billion euros, according to two people familiar with the Governing Council's decision.
Greek bonds rose on Wednesday, pushing the three-year yield down 188 basis points, or 1.88 percentage point, to 27.7 percent at 3:07 p.m. in Athens. The Athens Stock Exchange rose 1.3 percent.
'Catastrophic' for All
While euro-area officials have been pushing back expectations of when a deal might be reached, they have offered Greece some cautious encouragement this week.
"In recent days, there has been tangible progress in the quality of the discussions," ECB Executive Board member Benoit Coeure said in an interview with the Athens-based Kathimerini newspaper. "Significant differences on substance remain and substantial further work is needed."
A failure to reach an accord would be "catastrophic," Varoufakis said.
A move by Greek Prime Minister Alexis Tsipras on Monday to order local governments to shift funds to the central bank revealed how tight the government's margin for maneuver is. The stop-gap measure may give him just enough breathing space to pay salaries, pensions and a payment to the International Monetary Fund.
Town Halls' Reserves
Municipalities' reserves are estimated at about 1.5 billion euros, which will keep the country afloat until the end of May, a person familiar with the matter said on Tuesday. Without the measure, Greece would be short by as much as 400 million euros of the amount needed by April 27 to cover pensions and salaries, Alternate Finance Minister Dimitris Mardas said in a Mega TV interview on Wednesday.
Greek municipalities will pitch in if Tsipras meets mayors' representatives and informs them about the true state of the economy, the Central Union of Municipalities said in a statement posted on its website on Wednesday.
Euro-area officials are striving to find a way to persuade Greece to make reforms in exchange for aid, and so to keep the country in the 19-nation currency bloc.
Greece is unlikely to meet the end-April target for it to submit a list of measures to revamp its economy, a European Union official said Tuesday. The euro area now views the end of June to be Greece's main deadline to unlock aid, he added.
While this week's meeting of euro-area finance ministers in Latvia is probably too soon to seal an agreement, "an agreement will come," Varoufakis said.
Before it's here, it's on the Bloomberg Terminal.
LEARN MORE