Travelers Declines Most in Dow Average as Profit Falls 21%
Sonali Basak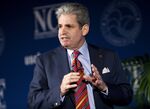 Travelers Cos. posted the biggest drop in the Dow Jones Industrial Average after first-quarter profit fell 21 percent as investment income declined and the pace slowed for rate increases to commercial clients.
The insurer slumped 4 percent to $101.88 at 4:15 p.m. in New York, even after the company announced a $5 billion share buyback plan.
"Pricing continues to weaken," Charles Sebaski, an analyst with BMO Capital Markets, said in a note Tuesday. "Capital management is now largely expected for Travelers, and we are not sure it will be enough to offset the pricing challenges in the business."
Net income fell to $833 million, or $2.55 a share, the New York-based company said Tuesday in a statement. Chief Executive Officer Jay Fishman has been coping with increased competition among commercial insurers and also low bond yields, while the private equity portfolio was hurt by a slump in energy prices.
Travelers charged domestic business insurance customers 1.4 percent more at renewal in the three months ending March 31. That compares with an increase of about 4.8 percent a year earlier. Policy sales rose less than 1 percent to $5.9 billion.
Fink's View
Net investment income fell 20 percent to $592 million. Laurence D. Fink, CEO of BlackRock Inc., said earlier Tuesday in Singapore that low-interest rate policies by central banks around the world are threatening firms that have most of their portfolios in bonds.
"We are destroying the viability of insurance companies," said Fink, whose company is the largest investor in Travelers.
Profit from non-fixed-income holdings tumbled by more than half to $48 million as Travelers endured "lower valuations for energy-related investments," according to the statement. Hedge fund and real estate holdings performed better, the company said.
Travelers said it was prepared for the possibility of a slump in investment income in the period, and that holdings may have subsequently benefited from a rebound in energy prices.
Oil Prices
"A number of factors suggest that the vast majority of the impact of the recent decline in oil prices has been reflected in the current quarter's result," Chief Financial Officer Jay Benet said on a conference call.
Fishman, 62, whose company reported profits through the financial crisis, was diagnosed with a neuromuscular condition last year and has cut back on his commitments aside from leading the insurer. He has been CEO since 2004, when he engineered a merger with St. Paul Cos.
Travelers posted a combined ratio of 88.9 percent, meaning it retained 11.1 cents of each premium dollar after claims and expenses. That compares with a ratio of 85.7 the previous year. Pretax catastrophe costs increased to $162 million from $149 million a year earlier after a "very difficult winter on the East Coast and prolonged drought on the West Coast," Fishman said.
The gain from reserves narrowed to $243 million from $294 million a year earlier. Insurers regularly reassess the money they've set aside for future claims and can reduce or increase the amount based on revised expectations of losses.
Before it's here, it's on the Bloomberg Terminal.
LEARN MORE