Tory Leaders Flock to Rescue Bellwether District From Labour
Tom Beardsworth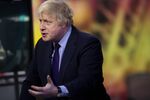 U.K. Prime Minister David Cameron's Conservative Party has moved to shore up its support in a northern English district that has been a bellwether for who runs the country since 1983.
Bury North, one of only two House of Commons seats in Greater Manchester held by Cameron's party, is under threat from the opposition Labour Party, which has opened up a 9-point lead over the Tories in the district, according to an October poll by former Conservative party Deputy Chairman Michael Ashcroft.
Even though lawmaker David Nuttall was one of the most rebellious Tory members of Parliament, according to a University of Nottingham study, Mayor of London Boris Johnson, Culture Secretary Sajid Javid and Environment Secretary Liz Truss have gone to the district to drum up support.
"No doubt there'll be more this week," said Nuttall, who won his seat by 2,243 votes, or five percentage points, in 2010. "If we can hold marginal seats like Bury North then we have every chance of being able to win another 23 seats," allowing the Conservatives to govern without support from other parties, he said.
It would take a swing in support from the Tories to Labour of just 2.5 percentage points to topple Nuttall in the district, which has been won by the party that forms the government since Margaret Thatcher's Conservatives won the newly created constituency in 1983.
Labour have also sent their big hitters to the district, including economy spokesman Ed Balls and Rachel Reeves, who would run the Department for Work and Pensions, the U.K. government's highest-spending ministry, if Labour forms the next government.
Small Majorities
Ashcroft's polls suggest Labour is performing better in seats held by the Conservatives with small majorities than implied by national opinion polls, which show Cameron's party neck-and-neck with Labour.
In Bury, a perception the economic recovery has lagged behind London is making it harder for the Conservatives to get across their message that they should be trusted to "finish the job" of guiding Britain away from recession.
"I'm an accountant to a lot of businesses around here, mostly small ones with just a few employees, so I have a pretty good view into how things are going and they're gradually picking up, but only recently, and only slightly," said Jane Howarth, 31. "It's a bit unstable."
Labour candidate James Frith's campaign has made a positive impression on Bury voters, said Vicki Kay, owner of the Barista Cafe Bar, which Balls visited for a campaign event last week.
"He's popular round here -- he puts himself about a lot," Kay said of the Labour candidate.
'Frightening Prospect'
Cameron is seeking to reverse the swing against his party with warnings to English voters about the "frightening prospect" of an alliance between Labour and the Scottish National Party. Since last week that message has taken precedence over promoting the party's main manifesto pledges.
Yet for Kay it's the Conservatives' economic message that has persuaded her to back Cameron on May 7.
Since October last year her five-year-old business has performed well but she said she worries a Labour government would raise costs through higher taxes and a higher minimum wage.
For all the Labour candidate's local popularity, she won't be voting for him. "Labour are not the party for business," she said.
Before it's here, it's on the Bloomberg Terminal.
LEARN MORE