The Deadly Geography of Landslides
Rain-driven landslides have killed at least 20,000 since 2007—here's where.
By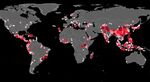 This week, the Seattle Times took home a Pulitzer for its coverage of the 2014 Oso landslide, a nasty disaster in Washington that killed 43 people.
It's unusual for a landslide this deadly to hit the United States. But they're common in many other parts of the world. This spring alone, deadly slides have struck in Peru, Indonesia, Bangladesh, Kashmir, and Myanmar—and that's only what appears at the top of a Google News search.
Thanks to NASA scientists who recently updated the open-source Global Landslide Catalog—the "first publicly available catalog of global rainfall-triggered landslides," according to the space agency—we now have a good idea of the current state of slide-derived carnage. Drawing from news reports and online databases, they found evidence for nearly 6,000 rain-driven landslides since 2007, with a cumulative death toll of more than 20,000.
Here's a taste of their findings:
Globally, landslides were reported most frequently from July to September. Most events occurred in Asia, North America, and Southeast Asia. In contrast, fewer than 5% of the fatalities were reported in North America, suggesting a significant amount of under-reporting in other regions as well as potential discrepancies between developing and developed regions.

Zooming into the map reveals the dismal details of each slide. "Five of a family died as a chunk of earth from the nearby hill collapsed in a heap on their shanty in the Lakhai tea garden slum....," reads this item from a 2009 mudslide in Bangladesh. "The other died instantly in a landslide in the other tea garden during [a] heavy shower."
Judging from a cursory inspection, safe havens from landslides include Russia, northern Africa, and central Australia. (Of course, thin population density in some of these areas might lead to a lack of reporting.) The United States is more slide-barraged than one might expect, with hundreds occurring around Appalachia and along the West Coast:

Seattle appears to be one of the hardest-hit cities in the country, with its metro area easily logging more than 100 slides since 2007. Add that to the Northwest enclave's sodden superlatives—nationally tied for first for the most dreary weather, and also extremely prone to steamrolling walls of muddy debris.