The Left Battles Obama and Clinton on Trade, But Only She Seems to Be Listening
Progressives rallying on the Obama administration's doorstep.
By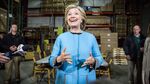 On Monday afternoon, the sidewalk in front of the U.S. Trade Representative's Washington office was blocked by a horse. A coalition of progressive groups—the AFL-CIO, the CWA, the Campaign for America's Future, etc. and etc.—were rallying against the Trans-Pacific Partnership, in full circus mode. A "Trojan horse" was the centerpiece of a swarm of signs and protesters, many of them wearing badges from the Populism 2015 conference that was concluding down the street. Right at noon, they were cheering for the only progressive senator who might run for president.