The Left Battles Obama and Clinton on Trade, But Only She Seems to Be Listening
Progressives rallying on the Obama administration's doorstep.
By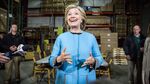 On Monday afternoon, the sidewalk in front of the U.S. Trade Representative's Washington office was blocked by a horse. A coalition of progressive groups—the AFL-CIO, the CWA, the Campaign for America's Future, etc. and etc.—were rallying against the Trans-Pacific Partnership, in full circus mode. A "Trojan horse" was the centerpiece of a swarm of signs and protesters, many of them wearing badges from the Populism 2015 conference that was concluding down the street. Right at noon, they were cheering for the only progressive senator who might run for president.
"What we want now is a mass political movement which stands up and says that our economy has got to create millions of decent-paying jobs," said Vermont Senator Bernie Sanders into a bullhorn. "You're looking at somebody that voted against NAFTA, voted against CAFTA, voted against normalizing trade relations with China. And after all of these agreements, they told us of all of the great jobs that would be created. They were wrong then, and they are wrong now. TPP will be a disaster for American workers, because our people should not have to compete with people who make pennies per hour."
Sanders was frequently interrupted by cheers. When he wrapped, he heard a chant lead by Arrion Brown, a 30-year-old postal worker from Annapolis.
Run, Bernie, Run!
Run, Bernie, Run!
If anyone was trying to miss the context, the chant took away their last excuse. President Barack Obama supports the TPP. Former Secretary of State Hillary Clinton, the only declared candidate in the Democrats' primary, had said via a spokesman that any trade deal "should put us in a position to protect American workers, raise wages, and create more good jobs at home." She did not say whether the TPP failed this test.
The Monday rally was intended to show both the current and the next (possible) Democratic administration the danger of approving another trade deal. Discrediting Clinton herself was not really an option. Just hours before, the new CNN poll of Democrats' 2016 choices showed Clinton winning 69 percent of their votes, her highest overall support since the question started getting asked. Sanders ran 64 points behind her.
Also on Bloomberg Politics: The Definitive Hillary Clinton Scouting Report, by Mark Halperin and John Heilemann
That left the progressive movement in full-on outside pressure mode—where it's been, arguably, since Obama took office. This was the second rally against TPP in four days; the last one featured Florida Representative Alan Grayson decrying a "sellout government," and Massachusetts Senator Elizabeth Warren crying out for "no more special deals for multinational corporations." With the White House in favor of fast-track trade authority, and with that functionally allowing the treaty to move before it could get real scrutiny in Congress, the opponents were left pressuring Hillary Clinton to make a statement.
"I think the pressure will keep building on her," said Robert Borosage, the president of the Campaign for America's Future, standing out among the brightly T-shirted protesters in a black suit. He just fretted that she would not make a statement until it was too late to make a difference. "She could go either way. She helped put it together as Secretary of State. As senator, she said she was skeptical of these kinds of trade deals because she'd seen the damage they'd wreaked on upstate New York."
Hillary simply couldn't be trusted, and there might be no alternative but to trust her. Fighting the administration openly was the only way to get the trade deal into political coverage, into a 2016 discussion dominated by intra-Republican battling. The labor and progressive movements had been on a full-court press against the TPP. They were openly mocking the White House's efforts at preventing a dispute by dividing the left. "They're desperate to find a crack," CWA's Larry Cohen said last week, "but they won't find one."
Instead, the left was utilizing the press's natural instinct to cover a conflict and a presidential race. "We must stop entering into bad trade deals—bad trade deals like the Trans-PacificPartnership—that hurt middle class wages and ship middle class jobs overseas," said former Maryland Governor Martin O'Malley last week, in a speech at Harvard University. "We certainly shouldn't be fast tracking failed deals. Chasing cheaper labor abroad will not help us build a stronger economy here at home." In subsequent interviews, O'Malley kept working the theme.
Yet elsewhere on the left, O'Malley was covered like a phony. The Intercept's Lee Fang recovered video from 2013, when the then-governor insisted that "free trade, provided it's fair—and that's always the rub—is a net benefit for us." Sanders was more credible, but most of the "professional left" organizing was still focused on getting Warren to run for president.
On Monday evening, the campaign to draft Warren organized a rally in New York City where Harvard professor and anti-corruption advocate Larry Lessig called on Warren to challenge Hillary. He was preceded by Van Jones, an organizer turned CNN pundit who asked the crowd to "just imagine her in the debates." Lessig expanded his previous praise for Warren into a case for her to run and "citizen equality" to become the issue of 2016. Still, he had a caveat: "to be pro-Warren is not to be anti-Clinton."
Ironically, Clinton might be more open to the critique this week than usual. She was spending Monday and Tuesday in New Hampshire, at staged public events where she would nonetheless take questions. The media was chasing whatever revelations might be in Peter Schweizer's upcoming Clinton Cash, a look at the foreign donations to the former president and first lady's charity which conservatives hope will find a linkage between the money and the decisions made when Hillary Clinton was secretary of state. 
"I worry more about the large frame New Democratic politics which she and her husband championed than I do about the transactional stuff," said Borosage. "In some ways, the transactional stuff with the foundation is an expression of the former—not the other way around."