Ruble Plunge Boosting Oil Revenue Shows Nabiullina Sweet Spot
Ksenia Galouchko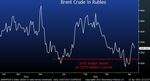 Russia's central bank declared this year's biggest currency rally is over after a four-day slump aligned the ruble's boost more closely with the pick-up in oil.
Central bank Governor Elvira Nabiullina spurred the currency's 7.6 percent retreat against the dollar in the four days to Tuesday, the biggest drop in three months, by curbing the supply of discount-dollar loans, which were converted by banks into rubles to take advantage of high Russian interest rates. Her deputy Ksenia Yudaeva said on Wednesday the period of "fast appreciation" for the ruble has ended and we're now seeing "stabilization."
The weaker exchange rate has helped lift the price of Brent crude in rubles from a four-year low earlier this month. The currency's 14 percent advance this year, while paring the fastest inflation since 2002 by cutting import costs, threatened the budget of the world's biggest energy exporter as its strength surpassed the 10 percent rally in oil.
"The ruble appreciated too fast against the dollar and a correction was inevitable," Piotr Matys, a London-based foreign-exchange strategist at Rabobank, said by e-mail on Tuesday. It may have found a "sweet spot," he said.
The government wants the ruble exchange rate to be "predictable, so there's no excessive weakening or appreciation," Prime Minister Dmitry Medvedev told lawmakers in Moscow Tuesday. The ruble is the world's most volatile major currency after leading declines against the dollar last year.
The ruble gained 0.8 percent to 53.3470 per dollar at 1:21 p.m. in Moscow, appreciating for the first time in five days. It set a four-month high of 49.7 on April 15.
"The messaging from the central bank has been pretty clear -- 50 was too strong," Timothy Ash, the chief emerging-market economist at Standard Bank Plc in London, said by e-mail on Tuesday. "They wanted to take the pace out of appreciation and try and bring the currency back to 55-60."
Before it's here, it's on the Bloomberg Terminal.
LEARN MORE