Royals' Herrera Banned Five Games; Red Sox' David Ortiz Gets One
Michael Sillup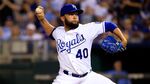 Kansas City Royals relief pitcher Kelvin Herrera was banned five games for throwing a fastball behind the head of Oakland Athletics third baseman Brett Lawrie on Sunday. Boston Red Sox designated hitter David Ortiz was suspended one game for bumping an umpire.
Royals starting pitcher Yordano Ventura also was fined an undisclosed amount for hitting Lawrie with a pitch Saturday, Major League Baseball said in an e-mailed statement.
Herrera also gestured toward his head while looking at Lawrie after he was thrown out of Sunday's game.
On Friday, Lawrie slid hard into Royals' shortstop Alcides Escobar at second base, injuring Escobar. The shortstop missed the next two games.
Ortiz made contact with umpire John Tumpane during the Red Sox-Orioles game on Sunday. Ortiz appealed the ban and will be allowed to play until it is decided.
Before it's here, it's on the Bloomberg Terminal.
LEARN MORE