Pricking Algorithms Raises Big Money Specter in Danish Politics
Peter Levring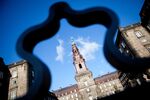 Reaching the Danish voter is becoming costlier in the age of social media, raising the specter of big money gaining influence over lawmakers in the world's least corrupt nation.
Flows of private cash to political parties have almost quadrupled since the mid-1990s and are now accelerating as the spread of social media such as Facebook Inc. poses new hurdles in attracting voters.
"More and more voters only get their news from social media and unless parties spend big they won't reach those groups," said Lars Nielsen, a former adviser to Deputy Prime Minister Morten Oestergaard and head of public affairs at PrimeTime Kommunikation, a communications firm in Copenhagen. "It's getting ever more costly to penetrate social media algorithms."
As the nation prepares for an election this year, anti-corruption groups are sounding the alarm about the growing costs of winning a seat in parliament. Transparency International, which has ranked Denmark the least corrupt nation on earth for three years running, says permissive political funding regulations are its "Achilles heel."
Concern that big money is exerting undue influence has flared as parties set up action committees that keep donors anonymous and after a number of politicians failed to disclose expensive trips and gifts. Lawmakers in Denmark enjoy one of Europe's most relaxed funding environments, and are allowed to take cash from anyone, including foreign companies and governments, as long as they report individual contributions bigger than 20,000 kroner ($2,900).
Corruption Rumors
Parties with such committees include the Conservatives and the Liberals. The Social Democrats also recently set-up its business club, which charges for events featuring speakers such as Finance Minister Bjarne Corydon.
Campaigning is becoming costlier as parties use micro-targeting to pinpoint swing voters and individuals on social media.
"There are rumors of corruption and there shouldn't be," said Karina Kosiara-Pedersen, a professor of political science at the University of Copenhagen, who has co-authored a report on limiting campaign financing. "We'd rather open the parties' books to the public and let the voters decide what to suspect."
Kosiara-Pedersen recommended cutting the disclosure limit to 10,000 kroner and abolishing action-committee anonymity.
The group is also looking at banning private organizations from putting candidates on the payroll as consultants and paying for staff support, advertising campaigns, hotel bills and training for party officials.
'Uneven Influence'
The Social Democratic-led government, which needs to call an election by September, is positive to the proposals.
"We want to create transparency," Oestergaard, who's also economy minister and chairman of the Social Liberals, said in an interview. "Keeping things in the dark only promotes suspicion of private money buying uneven influence."
Parties raised 240 million kroner in 2011, the most recent election year, up from 94.5 million kroner in 1994, according to the Kosiara-Pedersen report. And while the share of public subsidies rose to 40 percent of income in 2011 from 15 percent, it was still outpaced by the rise in private donations, according to the report.
Smaller parties, such as the Conservatives, got more than 60 percent of their funding from private sponsors in election years. The Liberal Alliance, openly backed by Saxo Bank A/S, received more than 80 percent of its revenue from donors.
Saxo Money
"I support people I sympathize with but obviously I don't make any demands on how they vote," Lars Seier Christensen, the co-chief executive officer and founder of Saxo, said in an interview. "I don't think any lawmaker would accept that. Virtually no member of the Danish parliament is as liberal as I am, so per definition I've got to accept differences."
Seier Christensen said he has never donated to lawmakers on the condition they engage in a particular issue.
Among the main parties, only the Social Liberals say they plan to spend more than in the 2011 election. Prime Minister Helle Thorning-Schmidt's Social Democrats declined to disclose any details. The Liberal Party of former Premier Lars Loekke Rasmussen says it targets the same in campaign funds as it used in 2011.
Danske Bank A/S, Denmark's biggest lender, has stopped contributions after customer complaints, spokesman Kenni Leth said. A.P. Moeller-Maersk A/S, the world's largest container shipper, has decided to support five parties, including the Liberal Party, according to Anders Wurtzen, vice president of group public affairs.
The parties being supported are seen as having policies that in general ``promote conditions for private enterprise in Denmark,'' he said in an e-mail. There are no conditions attached, he said.
Peter Hummelgaard, who's campaigning for a parliament seat in Copenhagen for the Social Democrats, has been working 10-hour days since 2013 to build grassroots support. He's running on a 300,000 kroner budget.
It's important that the influence of money is checked in time, he said.
"The way money is gaining influence in the U.S. and U.K. is a cautionary tale of how things should never be in Denmark," he said. "Money won't get you anywhere here. People still want to see who you are."
Before it's here, it's on the Bloomberg Terminal.
LEARN MORE