Man Adds Four More Computer-Driven Funds Amid AHL Resurgence
Will Wainewright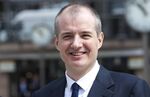 Man Group Plc, the world's biggest publicly-traded hedge fund manager, added four funds to its flagship computer-driven AHL range, which drove a surge in earnings last year.
The funds, domiciled in Dublin, run different systematic strategies, the London-based firm, which managed $72.9 billion at the end of 2014, said in a statement on Tuesday.
Chief Executive Officer Manny Roman, who joined from Goldman Sachs Group Inc two years ago, oversaw a 62 percent increase in pretax profit to $481 million in 2014, helped by returns of 32 percent for the largest AHL Diversified fund. The fund had lost money in four of the previous five years.
"The strategies have been developed to meet specific investor needs and showcase our strong research pipeline," said Sandy Rattray, CEO of Man Group's AHL unit.
The new funds, European-regulated UCITS products, include Man AHL Multi Strategy Alternative, managed by Philipp Kauer and focused on "high-conviction" multi-strategy investing. Man AHL Directional Equities Alternative, managed by Paul Chambers, co-head of equities at Man AHL, makes bets on rises and falls in developed markets and targets 10 percent annual returns.
Goldman Sachs
Goldman Sachs increased its first-half estimates for Man Group's fees and earnings per share on Tuesday, saying strong performance should result in larger inflows during the rest of the year. Performance fees were seen at $190 million compared with a previous $140 million estimate, it said.
Man Group, founded in 1783 as a Thames-side barrel maker, manages $14.4 billion in quantitative products through AHL and Man Systematic Strategies, according to its website. It has offices in 16 countries.
Use of computer algorithms in trading will increase, but will never entirely displace discretionary trading by human traders, Rattray said at a news conference.
The new funds were "soft-launched" to investors in November and publicized today. Demand for UCITS has been strong, "particularly in continental Europe," Rattray said.
Man Group has pursued acquisitions under Roman. Last year, it bought Pine Grove Asset Management and Numeric Holdings. Roman's bonus increased 43 percent to $2.5 million, the company said last month, after the shares doubled since he joined.
Man Group's shares rose 0.1 percent to 211.9 pence at 12:31 p.m. in London, valuing the firm at 3.66 billion pounds ($5.5 billion).
Before it's here, it's on the Bloomberg Terminal.
LEARN MORE