Japan Nominates Former Toyota Executive to BOJ Policy Board
Masahiro Hidaka and Toru Fujioka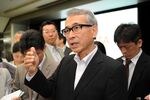 The Abe administration picked a veteran executive of Toyota Motor Corp., one of the biggest beneficiaries of Abenomics, to replace a Bank of Japan board member who in October had opposed expanded monetary stimulus.
Yukitoshi Funo, 68, a former chief of Toyota's North American operations, was nominated for the seat. He must be confirmed by both houses of parliament, where Prime Minister Shinzo Abe's coalition holds majorities.
Funo was among those decrying yen strength years before Abe came to office in 2012, since when BOJ Governor Haruhiko Kuroda's unprecedented stimulus has sent the currency tumbling. The businessman would join the nine-member panel at a time when it's confronting diminishing inflation pressures thanks to cheaper oil. Analysts forecast further stimulus later this year.
"Given his experience in the auto industry, he'll know a lot about currency markets and the global economy," said Yasunari Ueno, an economist at Mizuho Securities Co. "People in the market will expect Funo to see gains in the yen as a significant risk for the Japanese economy."
Funo is proficient in English, with a master of business administration from Columbia University. He also previously ran Toyota's Asian business outside of Japan and is currently an adviser to the automaker.
Yoshihisa Morimoto, a former executive at Tokyo Electric Power Co., ends his term on June 30.
If approved by parliament, Funo would participate in the policy board's July 14-15 meeting.
Voting Patterns
In choosing Funo, the Abe administration is indicating it wants balanced management of the BOJ's policy board now, said Masamichi Adachi, an economist at JPMorgan Chase & Co.
"The government sees the BOJ doesn't have to be radically reflationist at this point," said Adachi. "They are aware that households are complaining about rising costs from the weaker yen."
Yutaka Harada, an economist who has said Japan can beat deflation by printing money, assumed a seat vacated last month by Ryuzo Miyao, who supported the Oct. 31 decision. Harada co-edited a book "Reflationary Policy Revives Japan's Economy" with Deputy Governor Kikuo Iwata and Abe adviser Koichi Hamada.
Morimoto sided with board members Koji Ishida, Takehiro Sato and Takahide Kiuchi in voting against Kuroda's decision on Oct. 31 to increase the pace of asset purchases in the closest vote the BOJ had seen since 2008.
The decision added the yen's losses, which have fueled profits of big exporters and boosted import costs that have squeezed small companies and households.
Yen Trading
The Japanese currency was at 119.42 per dollar at 12:52 p.m. in Tokyo, down 22 percent since Kuroda introduced the unprecedented stimulus program two years ago.
The dissenters on Oct. 31 were concerned about damage to the functioning of the market and the risk that the BOJ would be perceived as financing fiscal deficits, Morimoto said in a speech on Feb. 9.
After boosting monetary stimulus in October to counter a "deflationary mindset," Kuroda has kept the pace of easing steady, even as inflation has stalled.
The BOJ's main price gauge showed inflation grinding to a halt in February from last year's peak of 1.5 percent in April. The BOJ kept its policy unchanged on April 8, when Kuroda said the economy faced less risk of relapse to deflation than it did last October.
Before it's here, it's on the Bloomberg Terminal.
LEARN MORE