Janus's Gross Sees German 10-Year Bunds Short of Lifetime
Mary Childs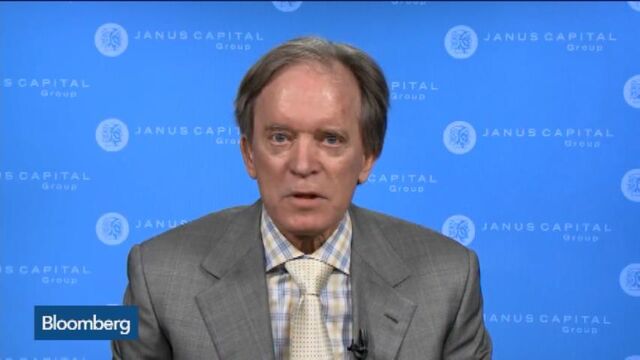 Bill Gross, the bond manager who joined Janus Capital Group Inc. last year, said the 10-year German bund is the "short of a lifetime."
Gross said he's betting against German government bonds because of the slow economic expansion in the euro area, the European Central Bank's stimulus measures, and as concern about Greece's debt burden grows.
"Most investors probably want to wait for 12 to 18 months because that's when the ECB's quantitative easing program ends," Gross said Tuesday in a Bloomberg Television interview with Alix Steel. While the trade carries the risk that the ECB could change course, it's somewhat alleviated because President Mario Draghi "has told us he's going to buy some, but he's not going to get ridiculous," he said.
Gross has sharpened his position on the bund after earlier this month saying that his bet on U.S. Treasuries and against German debt is "not the trade of the century or the trade of the decade but I think it's the trade of the year."
Yields on 10-year German bonds have dropped from a 1-year high of 1.556 percent in April 2014, and reached 0.104 percent at 11:36 a.m. in New York. The yields reached a record low of 0.049 percent last week driven by the ECB's stimulus measures, which include buying government bonds.
The German bund is "better than the pound," in the early 1990s, Gross wrote in a Twitter message on Tuesday. "The only question is Timing/ECB QE," he wrote. The devaluation of the British pound in 1992 created unprecedented opportunities for investors including George Soros, who made $1 billion on his bet against the currency.
Treasuries Anchored
Gross, who abruptly left Pacific Investment Management Co. in September, now manages the $1.46 billion Janus Global Unconstrained Bond Fund. After a shaky first five months, he's regained his footing. The fund has advanced 2.1 percent this year, beating 74 percent of peers, according to data from Morningstar Inc. Since inception, the fund has advanced 1.6 percent, beating 73 percent of competitors, the data show.
Gross has been using derivatives to bet that prices on debt from the U.S., U.K. and Germany won't swing outside a certain band. Gross sees German 10-year bunds, the euro area's benchmark, as a type of anchor for U.S. government debt. At 0.495 percent, "it's hard for a U.S. Treasury to move much higher," Gross said Jan. 12 in a Bloomberg Radio interview with Tom Keene.
Bigger Short
The fund struggled initially after Gross took over, declining 1.3 percent in the first five months through March 6. It trailed its benchmark in the fourth quarter last year primarily because it had plowed about 5 percent of net assets into debt issued by U.S., Russian and Brazilian energy companies. Those bonds and emerging market sovereign debt that Gross insured were all hit by the 42 percent collapse in crude prices in the period.
Paul Singer, the billionaire founder of hedge fund firm Elliott Management Corp., this month said there was "a historical aberration in the valuation in the largest market, for government bonds of developed countries," calling it an "even bigger short in the oven" than the subprime mortgage crisis in 2007 and 2008.
Global central banks are "printing money" and debasing their currencies, and the move is "unprecedented, extreme, and unknowable in its ultimate effects," Singer said at the Grant's Interest Rate Conference in New York on April 7. Government debt offers "precious little future rewards and tons of risk."