IBM Needs Software Unit to Stop Shrinking to Reach Profit Target
Alex Barinka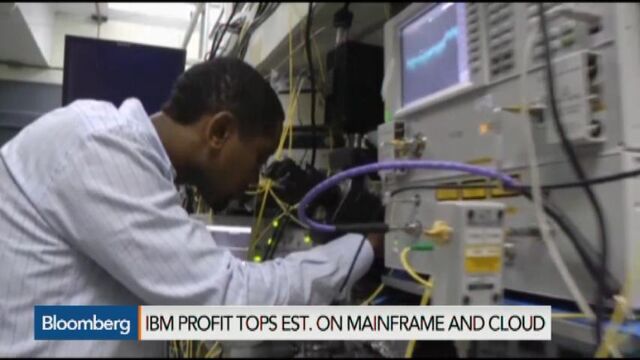 IBM's full-year earnings will greatly hinge on a business unit in flux: software.
International Business Machines Corp. held to its forecast for full-year operating profit of $15.75 to $16.50 a share, when it reported first-quarter earnings on Monday. To reach the high end, IBM needs its software business to stop shrinking, Chief Financial Officer Martin Schroeter said on a conference call.
That's no mean feat for a business unit in the midst of a sweeping overhaul that includes introducing a mass of new software and changing the way products are sold to customers.
"On a full-year basis, we see the difference in the high end and the low end as being that software trajectory," Schroeter said.
That division is already off to a slow start. Sales fell 8 percent in the first quarter compared with a year earlier, or 2 percent when adjusted for currency impact, and pretax income gained just 1 percent.
For 2015 software revenue to be flat, sales will have to increase to double-digit growth by the final three months of the year, said Kulbinder Garcha, an analyst with Credit Suisse Group AG in New York.
"Just given the performance in the first quarter, the likelihood of that happening is quite low," said Garcha, whose midpoint estimate for 2015 earnings is $15.58, or 3.4 percent below IBM's projection. "That is one of the reasons, frankly, that we are below that earnings guidance because we think it's going to be hard to achieve."
Up Front Sales
IBM's software business accounts for about 28 percent of total sales and the division has grappled with an industrywide shift in how companies buy products. As cloud computing has made it easier to purchase technology -- it can be delivered via the Internet, instead of installed on site -- customers have demanded more flexibility.
Like many of its competitors, Armonk, New York-based IBM has had to shift away from licensed-based software sales where customers pay up front to subscription selling where clients pay for what they use over time. That means less of the bulk of sales will be booked up front.
Subscription-based software, delivered as a service, still makes up only about a quarter of the unit's sales, while older licensed offerings make up about another quarter, Garcha estimates.
Meantime, as much as half of software revenue is tied to hardware products. That division's revenue fell 23 percent as reported in the first quarter, though it increased 30 percent when excluding foreign-exchange impact and the sale of its low-end server business to Lenovo Group Ltd. The results followed three years of falling sales because of weakened demand and revenue removed through divestitures.
Before it's here, it's on the Bloomberg Terminal.
LEARN MORE