Photographer: Tim Schutsky/Bloomberg Business
Shopping Guide
Game On: Six Unexpected New Tennis Outfits
Score major style points on the court with these three trends
By

It's almost May, which means we're heading into prime Grand Slam tennis season, with the French Open, Wimbledon, and the US Open still up ahead. Just remember that when it comes to this most stylish of summer sports, a ball isn't the only thing you can hit (or miss) on the court. Take fashion-friendly pros like the Williams sisters and Roger Federer: They may not always win the match, but their style game is undefeated.
Here are three trendy ways to serve serious athletic club style, whether you're watching courtside, happen to be a lifetime member of Fisher Island or the Olympic Club (and if you are, call me), or are stuck tuning in from the couch.
Neon Accents for Him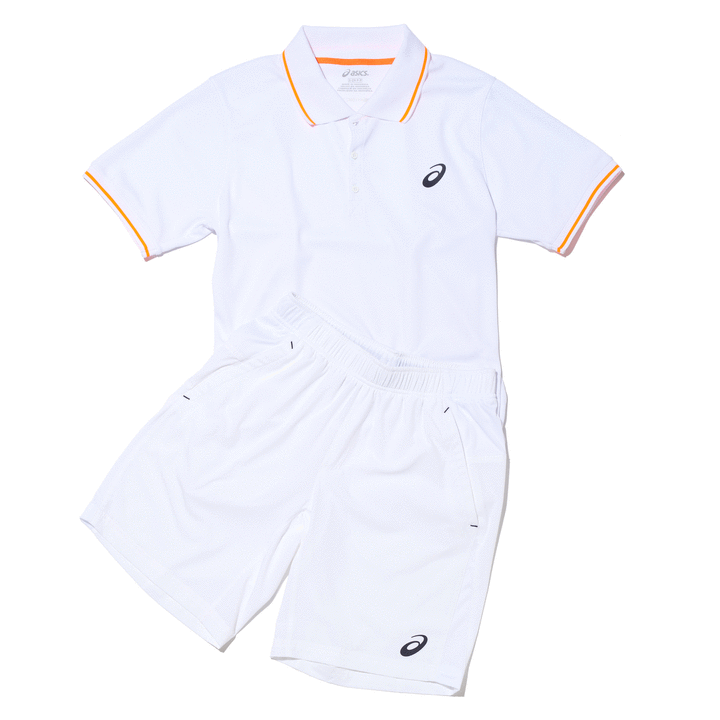 So you're ready to take a swing at some neon? My suggestion: Start small. This almost-all-white shirt-and-shorts ensemble by Asics is the perfect palette to add a pair of vibrant, statement kicks like the Gel-Resolution 6, also by Asics. Then, offset the ballsy (get it?) color play with more muted accessory choices, like a pair of classic black plastic frames by Ralph Lauren and visor by Under Armour. (Polo, $52, masonstennis.com; shorts, $48, masonstennis.com; sneakers, $130, masonstennis.com; sunglasses, $279, ralphlauren.com; visor, $19.99, underarmour.com)
Neon Accents for Her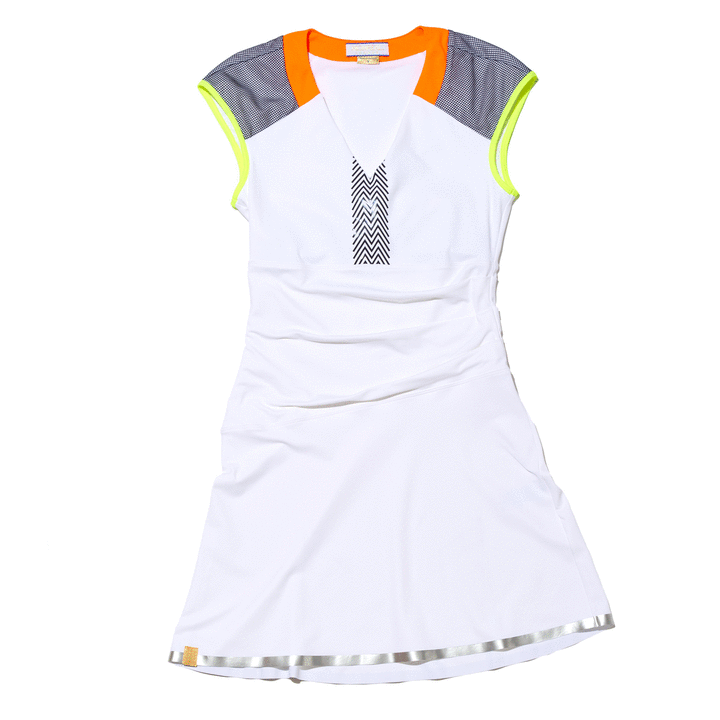 This neon- and metallic-edged dress by Montreal London is hyperfeminine, thanks to its ultraflattering stretch-jersey material and gams-bearing mini cut. Add an extra dash of bright color with a sporty hair band, like this fluorescent green one by Nike, which would look great with a tight ponytail or a bouncy braid. (Dress, $420, masonstennis.com; head tie, $15, nike.com)
Americana for Him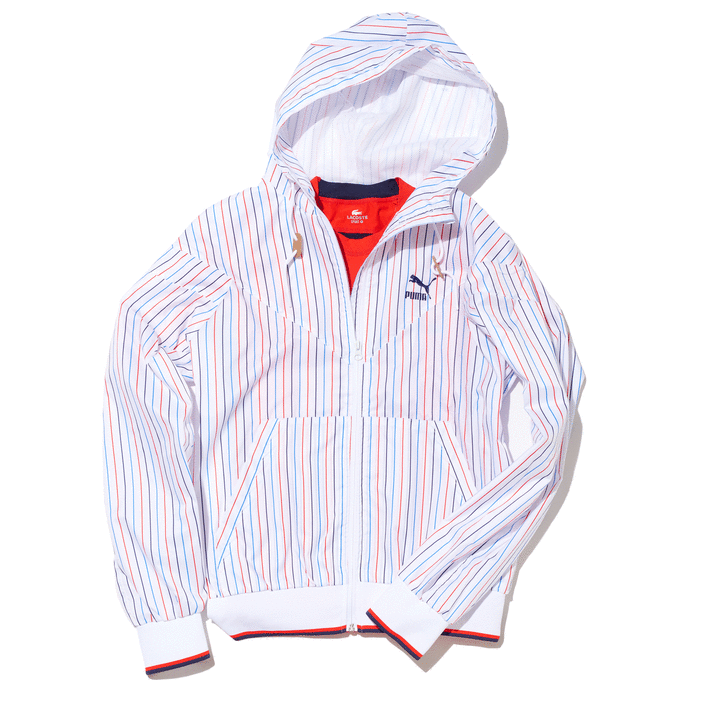 Whether you're wearing the always-in-style color combination of red, white, and blue to show off a little pre-Memorial Day patriotism (or, like me, your allegiance to the Stanley Cup-chasing New York Rangers), it's a look that works. Try subtly layering pieces, like this lightweight jacket by Puma, with a punchier, atypical shoe choice. These bright (but rad!) Adidas by Raf Simons Stan Smith leather sneakers get the job done. The result is a little Richie Tenenbaum, a little Uncle Sam, and a lot on point. (Jacket, $80, puma.com; sneakers, $450, mrporter.com)
Americana for Her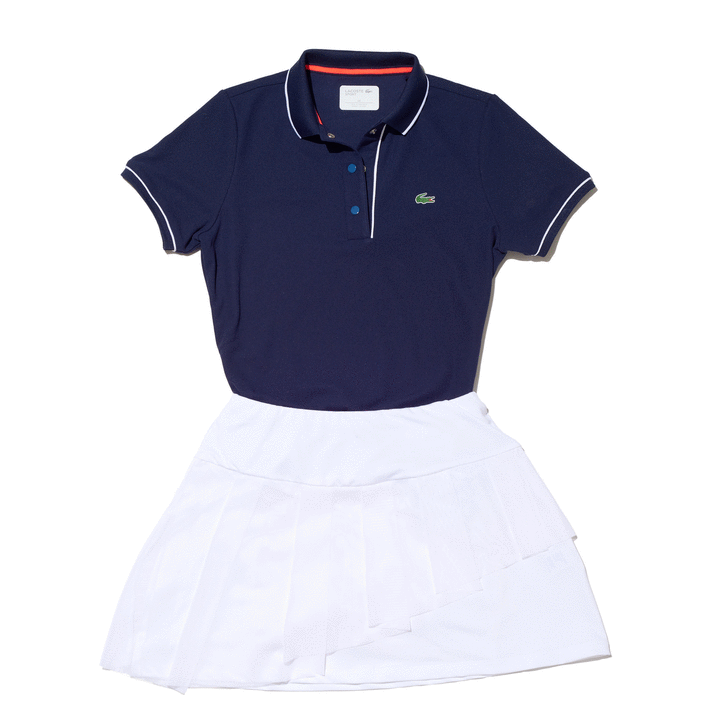 Look graceful for a play day in this fitted performance polo by Lacoste Sport and drapey, tulle-tiered skort by Chrissie by Tail (legendary tennis player Chris Evert's activewear collection). Top off the clean, nautical-inspired look with a cherry-red ball cap, also by Lacoste. (Skort, $73, tailactivewear.com; polo, $89, lacoste.com; cap, $40, lacoste.com)
Black and White for Him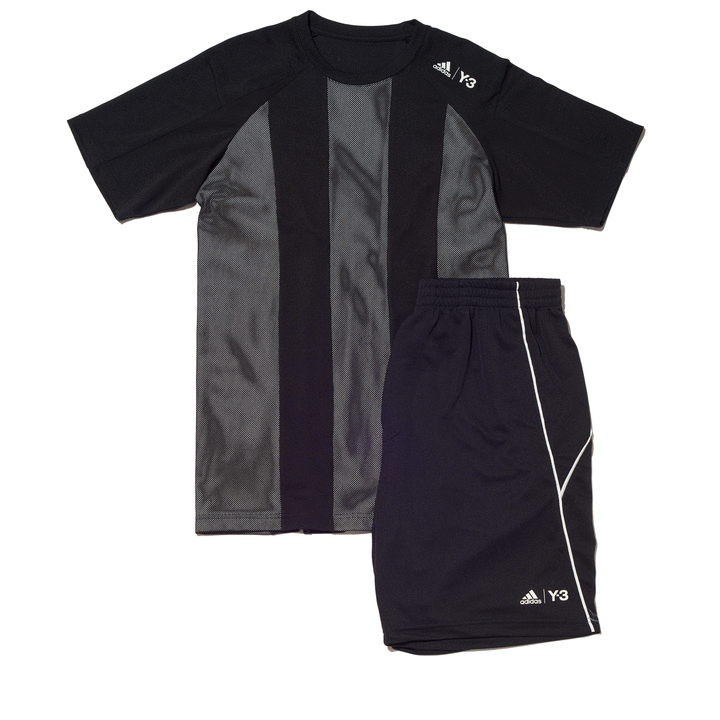 Just in time for the French Open in late May, Adidas has introduced the Adidas Roland Garros Collection by Y-3, including the shirt and shorts above in the brand's signature black-and-white palette. The unisex collection is a mixture of avant-garde Japanese design and pure athleticism. Also: Ever wonder where Rafael Nadal gets all the power behind his groundstroke? Then you'll want to get your hands on one of his preferred Babolat AeroPro Drive+ rackets. (Ladies, Caroline Wozniacki has also endorsed multiple generations of this racket.) The more aerodynamic frame allows for 10 percent more air penetration, which produces a faster shot with more spin. (Shirt, $77, rolandgarros.com; shorts, $75, adidas.com; racket, $199, babolat.com)
Black and White for Her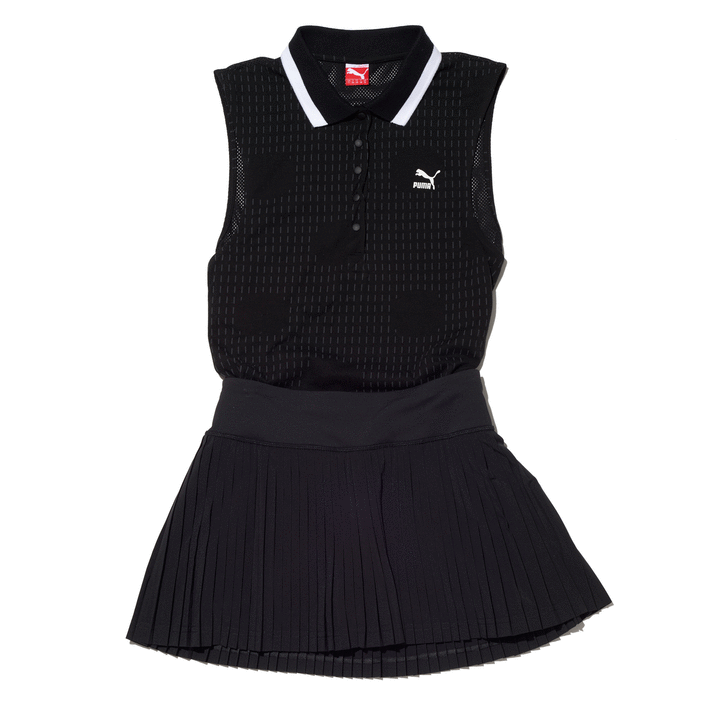 While white on white on white may conceal perspiration—the original intention of the sportwide dress code, still upheld at prestigious pro tournaments such as Wimbledon—a mostly black kit conceals all the sins. This sleeveless polo by Puma and flouncy, pleated skirt by Lululemon (cute, but also made of a sweat-wicking material) create a retro-inspired look that's equal parts sexy and ferocious. (Skirt, $68, lululemon.com; polo, $40, zappos.com)
Nic Screws is the style director for Bloomberg. Follow her on Twitter and Instagram, or e-mail her any of your fashion concerns or questions at: nscrews@bloomberg.net.
Before it's here, it's on the Bloomberg Terminal.
LEARN MORE