ECB Is Studying Curbs on Greek Bank Support
Jeff Black, Nikos Chrysoloras and Stefan Riecher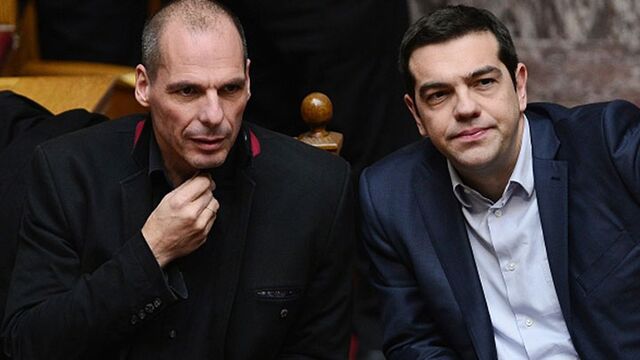 The European Central Bank is studying measures to rein in emergency funding for Greek banks as resistance to further aiding the country's stricken lenders grows among policy makers, people with knowledge of the discussions said.
ECB staff have proposed increasing the discounts imposed on the securities banks post as collateral when borrowing from the Bank of Greece, the people said, asking not to be named as the matter is private. While adjusting these so-called haircuts hasn't been formally discussed by the Governing Council, it may be considered if Greece's leaders fail to quickly convince euro-area finance ministers they can reform their economy and secure bailout funds, one of the people said. Greek bank stocks slid.
Greek lenders are mostly locked out of regular ECB cash tenders while the government, which holds talks with euro-area partners in Riga this week, tussles with its creditors over the much-needed aid payments. Instead, the banks currently have access to about 74 billion euros ($79 billion) of Emergency Liquidity Assistance from their own central bank -- an amount that has been rising and which will be reviewed this week.
There's "no doubt" that the ECB is losing patience with Greece, said Frederik Ducrozet, an economist at Credit Agricole CIB in Paris. "Greek banks will need more funding before long, so in a way larger haircuts or a lower ELA cap are equivalent."
The FTSE/Athex Banks Index slumped 5.4 percent at 3:54 p.m. Athens time. The euro fell 0.3 percent to $1.0707.
Seeking Deal
The ECB staff proposal outlines three routes for reducing the amount of cash lenders can receive for a given amount of collateral, one of the people said. The haircuts set under ELA operations aren't public.
CNBC reported that haircuts could be returned to the level of late last year, before the ECB eased its Greek collateral requirements; set at 75 percent; or set at 90 percent. The latter two options could be applied if Greece is in an "orderly default" under a formal ECB program or a "disorderly default," CNBC said, without further elaboration.
An ECB spokesman declined to comment.
Euro-area officials are striving to find a way to persuade Greece to make reforms in exchange for aid, and so to keep the country in the 19-nation currency bloc. Major creditors including Germany aren't ready to let Greece leave as long as Prime Minister Alexis Tsipras shows willingness to meet at least some key demands, according to people familiar with the talks.
Deposit Outflows
ECB Vice President Vitor Constancio told European Parliament lawmakers on Monday that a Greek debt default doesn't automatically mean it must give up its euro membership.
"I don't think it's an experiment we want to run," Jason Furman, chairman of U.S. President Barack Obama's Council of Economic Advisers, said in a Bloomberg Television interview in Berlin on Tuesday. It's in the interests of Greece, its creditors and "the entire world" for the sides to reach an agreement, he said.
The Latvian meeting of euro-area finance ministers and central-bank governors will be another test of the government's willingness to make economic reforms in return for the final payments of its 2012 bailout package.
As Greek depositors pull cash from bank accounts amid uncertainty over the country's future in the currency bloc, the central bank seeks to match the outflow with ELA. The Bank of Greece keeps a buffer of around 3 billion euros of ELA allowance in reserve, to give it time to react to a possible bank run, one of the officials said.
Cash Raid
Running out of options to keep his country afloat, Tsipras told local governments on Monday to move funds totaling about 1.5 billion euros to the national central bank. While that may be enough to last until the end of May, including meeting an International Monetary Fund loan repayment due on May 12, it will also probably increase banks' need for replacement funding.
The Frankfurt-based ECB has insisted on tight control of the operations, on concern banks will use the cash to directly fund the government in contravention of European Union law.
Even so, ECB President Mario Draghi has signaled he isn't yet convinced of the need to squeeze Greek lenders further. Speaking to reporters on April 15, he said haircuts were "mentioned, not discussed" by governors at their monetary-policy meeting. "We will come back on this issue in due time," he said.
Temporary Measure
To restrict or veto ELA funding, which is provided at the Greek central bank's own risk, a two-thirds majority of the Governing Council is necessary. A growing minority is opposed to continuing to provide the assistance indefinitely, one of the people said.
"The situation in Greece means that we should have a limit until summer for ELA," Governing Council member Vitas Vasiliauskas said in an interview in Washington on April 18. "Everyone understands what ELA means; it's a temporary measure to give the banks liquidity."
Those comments echo concern over the risks inherent in ELA funding voiced repeatedly by Jens Weidmann, the head of Germany's Bundesbank. Christian Noyer, Governor of the Banque de France, said in Washington last week that emergency assistance can't last indefinitely.
Before it's here, it's on the Bloomberg Terminal.
LEARN MORE