Druckenmiller's Bond Focus Risks Underestimating Greek Turmoil
Simon Kennedy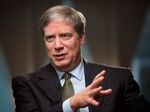 To hear Stanley Druckenmiller talk, there's little to fear these days if Greece exits the euro.
"I prefer to see Greece stay in the euro zone for a lot of economic, market reasons and maybe humanitatian reasons," the billionaire investor said in an interview with Bloomberg's Stephanie Ruhle last week. "But as a market participant I think it's way over-analyzed and way over-rated."
He's not alone in making a point echoed at recently completed meetings of the International Monetary Fund in Washington. Financial markets agree: While three-year Greek bond yields are approaching 30 percent, similar rates in Portugal, Spain and Ireland are around zero.
Not so fast. Paul Donovan, global economist at UBS Group AG, says bond yields are weak indicators. That's because bank depositors matter more.
"If ordinary bank depositors lose faith in the integrity of a monetary union they will hasten its demise by shifting their money," Donovan wrote in a report this month.
The UBS economist reckons that a depositor believing there's 1 percent chance their savings will be turned into a new currency will seek 100 percent security in institutions elsewhere.
Banks Bleeding
Greek banks are bleeding, with household deposits plunging 11.4 percent on an annual basis in February, according to the European Central Bank. Deposits fell 1 percent in Spain in February and rose just 0.5 percent in both Ireland and Portugal. By contrast, deposits climbed 2.4 percent in France and 4.1 percent in Germany.
The end of the idea that euro membership is irrevocable risks increasing depositors' skittishness, rendering even the ECB impotent to stem the tide.
"If depositors think that a country will leave the euro area, then the ECB's pledge is worthless; if depositors think that a country stays in the euro area, then the ECB's pledge is unnecessary," said Donovan. "It means that any ECB defense needs to be very strong indeed."
Before it's here, it's on the Bloomberg Terminal.
LEARN MORE