Color Genomics Sells $249 Breast Cancer Gene Test to Masses
Caroline Chen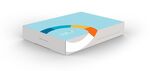 A Silicon Valley startup wants to make genetic testing for breast and ovarian cancer mutations available to the masses.
Color Genomics is offering a $249 saliva test kit for women that will check for variants in 19 genes known to be correlated with a higher risk of breast or ovarian cancer, including mutations in the BRCA1 gene, which led actress Angelina Jolie to choose a preventive double mastectomy. The test will be available online today.
The company is backed by Khosla Ventures, Laurene Powell Jobs, widow of Apple Inc. co-founder Steve Jobs. The test's price tag is intended to be low enough to circumvent the need for insurance coverage, Chief Executive Officer Elad Gil said. Other commercially available tests can run from $1,500 to $4,000, according to Color Genomics. Quest Diagnostics Inc. and Myriad Genetics Inc. both offer similar tests, though insurance can reduce the cost to consumers.
Genetic test kits geared toward breast and ovarian cancer are entering the mainstream after U.S. courts said Myriad wasn't entitled to patents on isolated BRCA1 and BRCA2 genes or the correlation between genes and cancer. Myriad had tried to block competitors' DNA tests before the rulings.
The potential market for Color Genomics and its competitors is large, especially as increasing awareness of genetic risks of the disease may prompt more risk testing. More than two thirds of Myriad's $778 million in 2014 revenue came from its BRACAnalysis test, according to company filings.
Family History
As genetic kits become cheaper and more easily available to patients, some experts caution that not all women need to be tested. Usually, only patients who are considered high-risk because of a family history of breast or ovarian cancer should consider testing, said Debbie Saslow, director of cancer control intervention at the American Cancer Society.
"People don't understand that results can be ambiguous," she said. "If you don't have any risk factors, nobody recommends genetic testing for the general population."
Together, BRCA1 and BRCA2 mutations account for 5 percent to 10 percent of all breast cancers, and about 15 percent of ovarian cancers, according to the National Cancer Institute. Yet having a harmful mutation doesn't necessarily mean that a woman will definitely develop cancer.
Due to potential ambiguities in results, Color Genomics requires a physician to order its test.
"We tried to ensure there's a health-care provider involved," Gil said. "There's also complementary genetic counseling if you want a board-certified counselor to walk you through your results."
Genomics Investors
Along with Khosla and Jobs, Color Genomics is backed by venture capital investment firm Formation 8, as well as BlackRock Inc. co-founder Susan Wagner and Cisco System Inc.'s Chief Technology Officer Padmasree Warrior. It's also advised by Mary-Claire King, the geneticist who discovered the BRCA1 gene.
Based in Burlingame, California, Color Genomics is staffed with a mix of biologists and computer scientists, along with engineers who previously worked at Twitter Inc., Google Inc. and LinkedIn Corp.
Bringing together Silicon Valley tech savvy with scientific expertise was essential in helping the startup automate and streamline the process of sequencing and analyzing genes, which has reduced the price of the test, said Othman Laraki, Color Genomics' president.
Once ordered, a kit will be sent by mail to the consumer, who then returns a saliva sample. Sequencing the genes and processing the results is expected to take about four to eight weeks, Gil said.
"Ultimately, this is information, not noise," he said. "There's a lot of tests that give you some information but may have a high ambiguity rate. But if you're carrying a BRCA1 mutation, that's known to be harmful."
(An earlier version of this article corrected the price of the kit in the second paragraph.)