China Auto Sales to Rise Less Than 7% Forecast, Association Says
Bloomberg News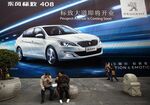 China's vehicle sales will expand less in 2015 than the 7 percent forecast at the start of the year, as the economy slows and more cities impose restrictions on vehicle registrations, according to the state-backed auto association.
"Even though we don't like it, it will become a new norm that more cities will start limiting vehicle purchases every year," Dong Yang, secretary general of the China Association of Automobile Manufacturers, said at a conference in Shanghai. He said the group will give a revised forecast later this year.
China's auto sales will grow by an average of about 5 percent to 10 percent a year, a "new normal" of slower expansion after increasing by an average of 24 percent from 2001 to 2010, he said. The country will probably surpass the U.S. as the world's biggest market for so-called new-energy vehicles this year, he said.
— With assistance by Kongho Chua
Before it's here, it's on the Bloomberg Terminal.
LEARN MORE