Australia Magellan Fund Beating Almost Everyone Has 14% in Cash
Adam Haigh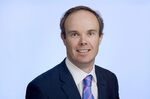 Hamish Douglass, the Sydney-based stock picker whose global fund beat 97 percent of peers over five years, is holding the most cash since 2009 after selling shares in Wal-Mart Stores Inc., McDonald's Corp. and Nestle SA.
Magellan Financial Group Ltd. boosted cash to about 14 percent of its A$7.5 billion ($5.8 billion) global equity fund as of early April and may increase it further this year amid distortions in markets stemming from a looming change in U.S. monetary policy, said Douglass, its chief executive officer. He's concerned investors are mispricing risk and that stock and bond prices are too high.
"If we're right, we're going into a stiff headwind over the next few years," Douglass said by phone last week. "In equities, we're in rarified air -- it's getting pretty thin up here. Through the lens we're looking at, quite a lot of things look pretty expensive."
Global equities are trading at valuations last seen in 2009 as central banks in Europe, Japan and China seek to bolster their economies with monetary easing. Former U.S. policymaker Richard Fisher is among those warning of the risk of a market slump as the stimulus is unwound.
"It's prudent to take out some insurance," said Douglass. "If we underperform the benchmark because we're wrong, that to me is just the cost of the insurance policy we've taken out. It's extraordinary that more people aren't doing it, to be honest."
The Magellan Global Fund has beaten 97 percent of Australian peers in the past five years, returning 19 percent annually over the period, data compiled by Bloomberg show.
Tech Stocks
In addition to holding more cash, Douglass has been buying shares of International Business Machines Corp., Intel Corp. and Microsoft Corp. The fund's cash allocation increased from 9.4 percent at the end of August, he said.
Nestle was among the largest 10 holdings for Douglass as recently as February and Wal-Mart remained in the top 10 through November. Both are no longer among the fund's biggest positions.
"I'm at my lowest weightings I have ever been in my defensive portfolios," Douglass said. "We've been selling down defensive equities into this incredible risk compression and we've been offsetting that with a slightly higher growth portfolio and cash."
Most economists now expect the Federal Reserve's first interest-rate increase in almost a decade to come in September. U.S. economic growth is forecast to have slowed in the first three months of this year as a harsh winter curbed consumer spending and manufacturing, pushing back expectations for the date of the monetary policy move.
Overvalued Assets
Douglass isn't alone in signaling concern with debt and equity-market valuations. A record 84 percent of professional investors in a Bank of America Corp. survey released this month said bonds were too expensive, while the most fund managers since 2000 said the same about global stocks. The MSCI World Index is up more than 150 percent from its 13-year low in March 2009, when the bull market began.
Magellan's move to increase cash isn't dissuading new investors. The firm had A$35.8 billion in funds under management at the end of March after receiving net inflows of A$336 million during the month. Shares of Magellan Financial, which is listed in Sydney, surged more than 2000 percent over the past five years.
If equities "continue to go up in price and we continue to hold the view we have of what the world looks like in three years, all probabilities are that we would hold more cash in that environment," Douglass said.
Before it's here, it's on the Bloomberg Terminal.
LEARN MORE