Can Chris Christie Stanch the Bleeding?
With a speech in Washington on Tuesday, the New Jersey governor hopes to begin to rewrite the narrative of his as-yet unannounced presidential campaign.
By and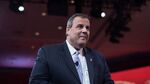 To put it mildly, this is not the presidential campaign Chris Christie would have envisioned for himself.
No wonder the New Jersey governor and one-time Republican rock star is heading to Washington D.C. on Tuesday. At the State Department, where he's scheduled to deliver a foreign policy speech at the Washington Conference on the Americas, he'll get a break from Monday's double barrel shot of bad news on the home front: The defection of a longtime political ally and personal friend to a political rival and a Quinnipiac poll showing him with a record-low approval rating of 38 percent in his state. 
"The governor's job approval hits a new low and voters think his presidential ambitions are distracting him from his day job," said Quinnipiac University Poll assistant director Maurice Carroll in a statement. "Besides, they don't think he'd be a good president."
Nearly two-thirds (65 percent) of the state's voters who were polled said that Christie "would not make a good president," and he trails Democrat Hillary Clinton in a hypothetical 2016 match-up by 15 points (51-36 percent).  So much for home-court advantage. 

Hours after the poll's release, Christie learned that state Senator Joseph Kyrillos, the governor's long-time friend and former campaign chairman, was throwing his support behind former Florida Governor Jeb Bush for the 2016 Republican presidential nomination. 
Bush campaign spokesman Tim Miller confirmed the defection to Bloomberg. Kyrillos, a Republican from the Jersey Shore area who served as chairman of Christie's first 2009 gubernatorial campaign, also cut a $10,000 check in March to Bush's political action committee, Miller said. 
The friendship between Kyrillos and Christie predates their political alliance: Kyrillos was introduced to his wife by by the governor and first lady Mary Pat Christie. The 55-year-old state senator didn't immediately return a call seeking comment. 
Last week, Christie attempted to change the narrative of his as-yet-unofficial presidential campaign by embracing entitlement reform. He suggested means testing and the slashing of Social Security and Medicare benefits for some sectors of the population—never a sure way to build a campaign base. His proposal was largely received as a Hail Mary pass by a candidate struggling to gain traction. 
"I wonder whether Chris Christie's problems have put him in position where he has to go for broke and do what all the other candidates are not doing—and that is tell the truth about our fiscal house," MSNBC host Joe Scarborough said. 
All of these developments have unfolded against a more ominous backdrop: Christie awaits word on whether he or members of his staff will face criminal indictments in the so-called Bridgegate scandal, involving lane closures on the George Washington Bridge (and resulting nightmare traffic jams) that the governor's cronies allegedly arranged as political payback for the mayor of Fort Lee, New Jersey, a Democrat who did not support Christie's reelection campaign. 
In the Quinnipiac poll released Monday, 34 percent of those surveyed said Christie should be removed from office if implicated in the scandal. 
"I don't think anyone likes to have something like that happen on their watch," Christie told Today host Matt Lauer last week, "and there's no question that it affects you."
From the start, Christie's campaign has lacked momentum. He has lagged behind his rivals in virtually every poll of the Republican field this year. In the Real Clear Politics polling average, Christie currently sits in eighth place, behind Bush, Wisconsin Governor Scott Walker, Texas Senator Ted Cruz, Kentucky Senator Rand Paul, Florida Senator Marco Rubio, former Arkansas Governor Mike Huckabee, and retired neurosurgeon Ben Carson. 
Still, Christie insists, early polls don't matter much. "Poll numbers go up, and they go down based upon your performance," Christie told Lauer, "and I am far, far from finished with my career." 
The problem for Christie in terms of rebuilding support among New Jersey voters, however, is that he now faces bitter opposition from unions, the legislature, and ordinary residents over his decision to slash pensions he signed into law in 2011.  
Does this mean his campaign has ended before it has even officially begun?
No.
As his performance at last weekend's First in the Nation Republican Leadership Summit in New Hampshire showed, Christie can still connect with an audience. With All Due Respect host Mark Halperin noted that Christie "has confidently settled into his new role as insouciant, determined underdog who is willing to take on Barack Obama, more in anger than in sorrow." 
His challenge now is not to be overshadowed by those with whom he shares a stage. On Tuesday, that will be Honduran President Juan Orlando Hernandez and U.S. Secretary of State John Kerry, as Christie tries to demonstrate his command of foreign policy issues. While the appearance could pay dividends, it also carries risks. 
In February, Christie traveled to London, in part to pump up his foreign policy credentials. But a photo-op quickly turned into a public relations disaster when the topic turned without warning to the subject of mandatory vaccination. Christie has since amended his comments that parents be given "some measure of choice" on whether to vaccinate their children. Asked last week at a town hall meeting whether he would allow parents to opt their children out of receiving immunizations, Christie didn't hesitate. "You can't count on me," the governor said, and received a round of applause.  
CORRECTION: An earlier version of this story misspelled state Senator Joseph Kyrillos' surname and incorrectly stated his age. He is 55.