Blackstone CEO Schwarzman Sees 'Excess' in China's Market
Devin Banerjee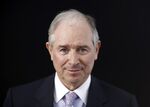 Blackstone Group LP's Steve Schwarzman said the Chinese stock market shows signs of excess as the population plows savings into it while economic growth slows.
"We're now finding retail investors with multiple brokerage accounts and margin loans and indicia of some excess in their market system," Schwarzman, Blackstone's co-founder and chief executive officer, said Tuesday at the China General Chamber of Commerce's Finance & Real Estate Forum in New York. "The stock market's really humming."
The Shanghai Composite Index on Tuesday climbed 1.8 percent to a seven-year high. China, the world's most populous country, has a policy of nonconvertible currency, preventing the Renminbi from being freely traded in an effort by policy makers to keep cash in the country. Chinese savers don't get enough return from interest on their bank deposits and they've been disappointed by short-term investments in real estate, said Schwarzman, whose New York-based Blackstone oversees $310 billion globally.
"The only thing that's left basically is the stock market," Schwarzman said. "They all go in and the market starts going up. And they don't just go in with their savings; they borrow money. Then you have the whole situation amplified."
Blackstone, which has invested in Chinese real estate and consumer-products companies, sees opportunities in technology-driven industries, Schwarzman said. The firm also likes shopping centers that are benefiting from growth of the country's middle class.
Internet Demand
"There's a lot of demand in China for anything touching the Internet," he said, citing logistics companies and warehouses that are building Web-driven distribution systems. "Shopping centers, correctly located, have tended to hold up very well and probably will in the future."
Schwarzman, 68, said the Chinese government will probably take steps to prevent the stock market from overheating, such as curbing margin lending and eventually allowing the currency to be convertible. The latter will happen very gradually, he said.
"They'll start cutting back on the margin abilities and other things to not have the stock market really have a huge blow-off," Schwarzman said.
Before it's here, it's on the Bloomberg Terminal.
LEARN MORE