BlackBerry to Buy Secure File-Sharing Startup WatchDox
Gerrit De Vynck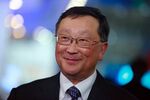 BlackBerry Ltd. agreed to buy file-sharing security startup WatchDox, shoring up its software offerings to ease its reliance on smartphones.
WatchDox helps governments and companies keep tabs on who has access to internal documents, share them easily and guard against leaks. Financial terms weren't disclosed, Waterloo, Canada-based BlackBerry said in a statement.
BlackBerry is working to boost software revenue to $500 million by March 2016 and Chief Executive Officer John Chen has said acquisitions are key to reaching that target. WatchDox, based in Palo Alto, California, has raised $35.8 million from investors including Blackstone Group LP and Gemini Israel Ventures, according to Crunchbase.com. Its technology lets users control access to files even after they've been sent outside of a company's internal network, WatchDox CEO Moti Rafalin said.
"The only way to protect content in this highly distributed world is if security travels with documents," Rafalin said in a phone interview.
BlackBerry shares were little changed at $10.01 at 11:15 a.m. in New York.
The deal comes nine months after BlackBerry agreed to buy Secusmart GmbH, a German company that makes anti-eavesdropping technology for phones and tablets. Earlier this year, BlackBerry unveiled a new Secusmart-equipped tablet that lets government and corporate clients use popular apps like YouTube and WhatsApp while still keeping confidential work information secure. The tablet will be available later this year, BlackBerry said.
Before it's here, it's on the Bloomberg Terminal.
LEARN MORE