Baltimore Police Custody Death Spurs U.S. Civil-Rights Inquiry
Del Quentin Wilber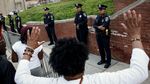 The U.S. Justice Department has opened a preliminary civil-rights inquiry into the death of a Baltimore man after his arrest by police, as the Obama administration scrutinizes law enforcement practices nationwide.
The department said Tuesday it will investigate whether any "prosecutable civil-rights violation occurred" when Baltimore city police officers arrested 25-year-old Freddie Gray on April 12. Gray suffered severe spinal-cord injuries while in police custody, the Washington Post reported, and he died at a local hospital on April 19.
The investigation is among efforts by the Justice Department to ease tensions between local police and the communities they serve. Last month, the agency sharply criticized the civil-rights record of police in Ferguson, Missouri, in the aftermath of a fatal shooting of an unarmed black teenager by an officer in the St. Louis suburb.
The shooting of Michael Brown in Ferguson on Aug. 9 and several other incidents around the U.S., including the choking death of a black man at the hands of a white New York City police officer, sparked widespread protests. In Baltimore, Mayor Stephanie Rawlings-Blake has called for calm and vowed a full investigation of the incident, the Post reported.
Six Baltimore police officers have been suspended as authorities investigate the circumstances of Gray's arrest and whether criminal are warranted, the Post reported. On Tuesday evening, dozens of protesters including members of Gray's family, were marching through the streets of the city.
Eric Holder, the nation's first black attorney general and the administration's most vocal spokesman on racial matters and voting rights, expanded restrictions in December on racial and other forms of profiling by federal law enforcement officers.
The new policy will require new training and data collection to monitor whether officers or agents engage in profiling. Holder will also encourage state and local police departments to adopt the federal rules, the department said in December.