Abe Shakes Hands With Xi
Isabel Reynolds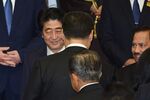 Prime Minister Shinzo Abe signaled it was time to turn the page on Japan's World War II aggression in a speech attended by Chinese President Xi Jinping that will set the tone for commemorations of the 70th anniversary.
Abe touched briefly on regrets over the conflict that inspired Japan's peaceful postwar policies and spoke mostly about past and future cooperation with other nations at the Asian African Conference in Jakarta. The speech is the first in a series of statements he will make marking this year's anniversary, amid fractious ties with China and South Korea, where bitterness over Japan's past militarism is widespread.
"Japan, with feelings of deep remorse over the past war, made a pledge to remain a nation" that refrains from aggression and settles international disputes peacefully, Abe said. He also said strong countries should not be allowed to "twist the weaker around", in a veiled reference to China's assertiveness in territorial disputes with Japan and Southeast Asian countries.
Abe and Xi will remain at the Jakarta conference today and a meeting between the leaders of Asia's two largest economies could indicate the lessening of tensions since their first meeting in November remains on track. If a conversation fails to materialize, Abe may be seen as having damaged the frail recovery in ties with Japan's biggest trading partner.
Abe managed to secure a handshake with Xi at a photo opportunity for leaders at the start of the conference. NHK reported they would meet at about 4:30 p.m. Tokyo time. Neither government has confirmed the report.
"The relationship between China and Japan is in a very complex situation as the two sides are seeking to maintain or even to enhance the dialog," said Liu Jiangyong, vice director of the Modern International Relations Institute at Tsinghua University in Beijing. "But there are so many uncertainties that could damage the fragile relationship."
Already this week, Abe has angered neighbors in North Asia by sending an offering to a controversial war shrine and saying there was no need to repeat previous Japanese apologies in his August statement marking the end of World War II.
The Jakarta conference has previously served as a venue for Japan to comment on its war legacy. Ten years ago, then-Prime Minister Junichiro Koizumi's words at the same event included expressions of contrition over World War II that previewed a full-throated apology in a statement to mark the 60th anniversary of the conflict's resolution. Abe will have a longer opportunity to confront the war legacy next week in Washington when he becomes the first Japanese prime minister to address a joint session of Congress.
Asian War
Chinese officials have repeatedly accused Abe of trying to revive Japanese militarism and whitewash the Imperial Army's role in the Asian war, which killed an estimated 20 million Chinese.
Abe fueled those concerns in 2013 when he visited the Yasukuni shrine in Tokyo, which includes 14 convicted Class-A war criminals among the millions honored there. Abe's decision to send an offering to mark the shrine's spring festival Tuesday drew a response from the government in Beijing.
"In the important year marking the end of the 70th anniversary of World War II, we strongly urge Japan to face history, to express remorse and to properly solve practical problems, and to take immediate actions to win the trust of Asian neighbors and the international community," Foreign Ministry spokesman Hong Lei said at a briefing in Beijing when asked about the offering.
More than 100 Japanese lawmakers visited the shrine Wednesday, a move that a South Korean foreign ministry official, cited by Yonhap, said negated the premise of Japan's return to the international community after World War II.
Disputed Islands
Japan and China have gradually stepped back from a standoff over disputed islands that hurt trade. Tensions flared in 2012 when Japan acquired some of the uninhabited islands from a private owner, sparking violent demonstrations in China and fears of a clash at sea as ships and planes from the two countries regularly tailed each other in the area.
Trade ties have largely recovered with total bilateral commerce reaching $343 billion in 2013. The number of Chinese visitors to Japan has continued to rise after an increase of more than 80 percent to 2.4 million last year. Meetings between lawmakers and officials have resumed, still the tensions remain palpable.
Xi and Abe appeared uncomfortable when they shook hands for cameras at their first summit last year in Beijing, which came two-and-a-half years after the previous top-level meeting between the two countries.
"The two countries have indeed moved away from the tense moments of the face-off of 2012-13, which brought them to the brink of war," said Zhang Baohui, director of the Center for Asian Pacific Studies at Lingnan University in Hong Kong. "While Abe has been trying to restore normality to Sino-Japanese relations, the mistrust issue, which is an outcome of his policies and nationalist identity, will continue to limit the potential of improvement."
(A previous version of this story erroneously stated the year that Abe visited the shrine.)
Before it's here, it's on the Bloomberg Terminal.
LEARN MORE