Does the Collapse of a Chinese Developer Signal the Start of More Defaults?
Ye Xie and Laura J. Keller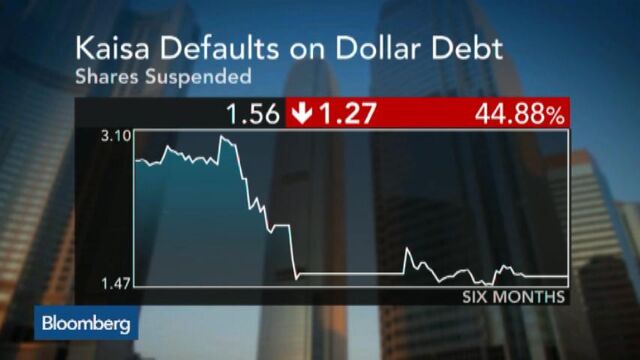 Kaisa Group Holdings Ltd. captivated Wall Street by minting fortunes from troubled real estate in China.
Now the developer is in trouble itself -- and the question is how far the pain will spread.
On Monday, the news came that many had been dreading for months: The company, caught up in an anti-corruption probe, is buckling under its debts as a slumping real estate market weighs on the entire Chinese economy. After missing $52 million in interest payments, Kaisa, once a stock market darling, now confronts an uncertain future.
It's a remarkable comedown for a company that burst onto the scene in 2007 as billions poured into Chinese real estate. Its troubles, long in coming, have set investors on edge and have many asking if Kaisa is a one-off or the start of something worse. Just last week, Standard & Poor's warned that "more defaults cannot be ruled out," saying it's concerned profitability in the Chinese property sector is faltering.
"More than one big developer is going to go under," said Erik Gordon, a professor at the University of Michigan who examines legal issues in corporate and sovereign debt restructuring efforts. "Busts follow booms. There's no reason for it to be any different in China."
While reaction to the default was muted in Chinese markets on Tuesday, the saga has sparked jitters among the country's corporate bond investors on multiple occasions over the past several months.
48% Plunge
At a time when China's equity market has soared -- the result of optimism that government stimulus efforts will shore up the economy -- high-yield corporate bonds posted almost no gains since the end of November, having sold off in January before rebounding in recent weeks.
Kaisa's benchmark dollar bonds, meanwhile, are hovering at prices that show investors anticipate the company will saddle them with losses of more than 40 percent when a restructuring offer is made. Its stock has been suspended in Hong Kong since March 31 after sinking 48 percent in four months.
The default, the first ever in the $43.2 billion market for dollar bonds issued by Chinese developers, is in part emblematic of the nation's weakening real estate sector. The slump has helped drag down China's annual economic expansion to the slowest pace since 1990 after serving as a key engine of outsized growth rates over the past five years.
Corruption Crackdown
Companies in other industries have found themselves in trouble too. Coking-coal importer Winsway Enterprises Holdings Ltd., for instance, missed a bond interest payment this month and water-treatment company Sound Global Ltd. flagged potential audit issues.
While shares of developers rallied on Monday after government data showing home prices fell in fewer Chinese cities last month, Kaisa's problems go beyond the real estate market after the company became ensnared in a government crackdown on corruption.
The developer's woes started late last year when officials blocked the approval of its property sales and new projects in its home city of Shenzhen, a move that is said to be linked to an investigation of the city's former security chief Jiang Zunyu.
Kwok Ying Shing, Kaisa's 50-year-old founder, unexpectedly returned to the company last week after departing three and a half months ago, citing health reasons.
Debt Levels
In the interim, rival Sunac China Holdings Ltd. agreed to buy a controlling 49 percent stake from the Kwok family on Jan. 30, subject to a debt restructuring that would be worked out with investors. Kwok has indicated to Sunac he has no plan to cancel or alter an agreement to sell the stake, people with knowledge of the matter said, asking not to be identified as the discussions were private.
The anti-corruption push by Chinese President Xi Jinping is a hard thing for investors to assess as they try to decipher which companies will hold up amid the slowdown and which will falter, said Shamaila Khan, a portfolio manager at AllianceBernstein LP, which oversees $476 billion.
Developers have less room to maneuver than they did just a few years ago as earnings growth slows and liabilities increase. The 34 Chinese property companies with dollar bonds rated below investment grade have a median debt level equivalent to 6.2 times earnings, excluding tax and interest expenses, up from 4.8 in 2013, according to data compiled by Bloomberg.
"This is a sector that grew a lot, quite aggressively," Khan said, adding that she's anticipating more defaults in the real-estate sector and is staying away from those companies that have the highest debt levels. "I don't think anyone really expected Kaisa at the end of last year. Credit selection should play a greater role."
Before it's here, it's on the Bloomberg Terminal.
LEARN MORE