With Belgium Deal, Malone Joins Scramble for European Wireless
Kristen Schweizer and Amy Thomson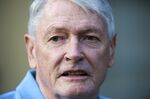 After reshaping European cable TV, John Malone is buying his first wireless company on the continent -- a move that leaves the billionaire investor poised to shake up the region's mobile business.
Over the past decade, Malone has spent more than $50 billion amassing cable and television assets in Europe. On Monday, Malone's Liberty Global Plc said it had agreed to buy Base, Belgium's No. 3 wireless carrier. Liberty's Belgian unit, Telenet Group Holding NV, will pay Royal KPN NV 1.33 billion euros ($1.4 billion) for Base.
The agreement will let Telenet sell its own mobile service instead of renting network capacity from other carriers, making it easier to offer bundles of Internet, TV, landline, and wireless. The purchase opens up the possibility of a deal between Liberty and Vodafone Group Plc, the world's No. 2 mobile carrier by customers, said Rick Mattila, an analyst at Mitsubishi UFJ Securities International Plc in London.
"Today's move is something of an admission from Liberty Global that convergence of mobile and cable is probably the way to go," Mattila said. "And if this is Liberty saying convergence makes sense, it means Liberty and Vodafone makes sense."
Monday's announcement follows a slew of multi-billion euro sales of wireless assets in the region, including carriers EE and O2 in the U.K., SFR in France and E-Plus in Germany.
The Netherlands is a likely next step for Liberty, because the company is already the dominant cable provider in the country but lags in wireless, said Guy Peddy, an analyst at Macquarie Group in London. T-Mobile Netherlands, Deutsche Telekom AG's Dutch unit, lost more than 300,000 customers last year and "could come into play," Peddy said.
Market Test
"If Liberty Global wants to be dominant and manage customers' experiences, it's to their benefit to have a mobile presence," he said. Deutsche Telekom declined to comment on its plans for the Dutch unit.
Liberty Global Chief Executive Officer Mike Fries, in a statement announcing the Telenet deal on Monday, said that elsewhere in Europe the company will focus on wireless rental agreements and offering mobile via Wi-Fi networks. The company declined to provide executives to comment on its mobile strategy in Europe.
The Belgium deal makes sense because the company already has a "substantial" mobile customer base in the market -- about 900,000 as of Dec. 31 -- Telenet CEO John Porter said in an interview.
"The rationale for acquiring a network is much more compelling in Belgium than in probably any other Liberty Global country," Porter said.
Yet Liberty Global has a history of trying strategies out in a single market before applying them more broadly, said Allan Nichols, a media analyst at Morningstar Inc. in Amsterdam. In 2013, the company's Chilean unit completed a deal with another carrier allowing it to re-sell wireless service to its customers.
"A year later, they started doing lots of" such deals, Nichols said, and Liberty Global today rents mobile service from other carriers and resells it to its subscribers in nine countries. "This could be the test and in a year or two they start making lots of acquisitions."
Media Colossus
The quickest way for Liberty Global to beef up its profile in wireless would be a deal with Vodafone. The company has operations in dozens of countries and has considered a combination with Liberty Global, which would create a European phone, Internet and TV colossus with hundreds of millions of subscribers, people with knowledge of the matter said last year. Vodafone declined to comment.
Vodafone has added TV and Internet in Europe through deals in Germany and Spain, and it aims to introduce those services in the U.K. later this year by renting network capacity from others. Liberty Global Chief Financial Officer Charles Bracken in November said he expected regulators would approve a purchase of his company's German business by Vodafone.
"Liberty Global and Vodafone makes an ideal combination," said Ian Whittaker, a media analyst at Liberum Capital Ltd. in London. If Malone believes selling bundles of various services "is the way forward, and their deals of late suggest that, then a relationship makes sense."
Before it's here, it's on the Bloomberg Terminal.
LEARN MORE