U.K.'s $75 Billion HS2 Line Is Target for Top Chinese Trainmaker
Benjamin Katz and Chris Jasper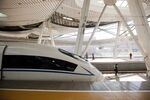 China's top trainmaker plans to go head-to-head with European rivals such as Alstom SA in bidding for a range of contracts including rolling stock for Britain's 50 billion-pound ($75 billion) High Speed 2 rail line.
CSR Corp. will seek to make and maintain the 225-mile-per-hour (360 kmph) trains at the heart of one of the world's biggest infrastructure projects, Li Donglin, chief executive officer of rail-technology arm CSR Times Electric, said in an interview. It could also build the track and manage the network.
Construction of the first phase of HS2 linking London and Birmingham is slated to begin in 2017, with trains running from 2026, followed by an extension to Manchester and Leeds opening by 2033. While competing to provide trains could mean taking on TGV-maker Alstom, Siemens AG of Germany and Japan's Hitachi Ltd., CSR could bid for a wide variety of work, Donglin said.
"Not only trains, but also services including the track, and maintenance and upkeep to make sure everything is safe," Donglin said. "Our cost of construction is cheaper than the other suppliers and we have been operating for so many years."
China, which has developed the world's largest high-speed train network as part of its economic transformation, is targeting contracts in both developed and emerging markets to turn home-grown expertise into export revenue. CSR is itself poised to merge with China CNR Corp. to form a national champion as the government seeks to secure more overseas deals.
Enticing Target
Britain, though first to develop the railway at the start of the industrial age, lacks a domestic train builder, with only Canada's Bombardier Inc. currently operating a factory there. Hitachi is seeking to fill the gap after a landmark victory in the 5.7 billion-pound contest to supply trains for the East Coast and Great Western routes, and is building an assembly plant in northeast England that will employ 730 people.
The rolling stock element of HS2 will dwarf even that deal, with a value of 7.5 billion pounds, making it an enticing target for Chinese companies seeking a European foothold.
"They would like to get their trains running in Europe and they see Britain as one of the easiest countries to get into," said John Disney, a transport consultant and researcher at Nottingham Business School in eastern England.
Hitachi will have fulfilled its current U.K. order book in time to build trains for HS2 and is likely to see the current project as a way into the bigger contest, Disney said. The company's first British deal was for Javelin units that provide domestic services on the High Speed 1 line, as the U.K. section of the London-Paris Channel Tunnel route is known.
German Interest
Siemens, Europe's No. 1 engineering group, said last year it's interested in bidding for contracts to build rolling stock for HS2, as well as in supplying electrification, security, signaling and energy distribution services. The Munich-based company pledged that it would create jobs in Britain if selected, though its main train plant is in Krefeld, Germany.
Siemens is currently working on a 1.6 billion-pound order for Thameslink commuter trains that span London from north to south. It withdrew from bidding for a 1.3 billion-pound deal to make stock for the U.K. capital's east-west Crossrail project, won by Bombardier, whose Derby plant was saved from closure.
Alstom has said it backs the HS2 project as the best option for freeing up capacity on the West Coast line, where it supplied the tilting Pendolino model to Richard Branson's Virgin Trains. The French company's AGV, a 225-mph upgrade of the TGV, is being used as the reference stock for calculating journey times on the new route, according to its website.
Britain has signed accords with China aimed at fostering collaboration on rail projects in recent years. Chinese premier Li Keqiang last year offered to invest in an HS2 interchange in Birmingham, while infrastructure company China Railway Group has said it would be interested in building connections from the station to nearby towns worth about 280 million pounds.
Both main U.K. political parties have said they'll continue developing HS2 after the May 7 election, though Labour Party finance spokesman Ed Balls has said there are "big questions" about the cost of phase two.
Prime Minister David Cameron's Conservatives have pitched the plan as key to creating an "northern economic powerhouse."
Before it's here, it's on the Bloomberg Terminal.
LEARN MORE