Sequoia-Backed Mu Sigma Eyes $1 Billion From World Awash in Data
George Smith Alexander and Adi Narayan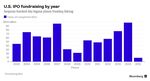 Mu Sigma Inc., a data-analytics outsourcing firm backed by Sequoia Capital, plans a Nasdaq initial public offering within four years as it seeks to tap demand for processing the vast amounts of information companies gather.
The Chicago-based company aims to increase annual sales to $1 billion within five to seven years from about $250 million currently, according to founder and chief executive officer Dhiraj Rajaram. Mu Sigma is boosting revenue at a rate of six to seven percent monthly, Rajaram said in an interview in his office in the Indian technology hub of Bengaluru.
Mu Sigma competes with outsourcing giants Cognizant Technology Solutions Corp., Tata Consultancy Services Ltd. and dozens of startups including LatentView Analytics Corp. and Fractal Analytics Inc. in helping customers get answers from the increasing quantities of data they collect. The global analytics market is estimated to reach $121 billion by 2016 from an estimated $96 billion last year, according to a July report from Indian industry group Nasscom.
"We are building tools that will negate the necessity of a PhD in applied mathematics," said Rajaram, 40, who founded the company ten years ago after quitting his management consulting job. "In our world, the problems are changing faster and faster and faster."
Fortune 500
Mu Sigma has attracted investment from Sequoia Capital, which has backed U.S. tech giants including Yahoo! Inc. and Oracle Corp., and MasterCard Inc., the second-largest U.S. payments network. General Atlantic led a $108 million funding round in December 2011. Rajaram owns about 45 percent of Mu Sigma.
The company has about 4,000 employees, with more than 80 percent of them based in Bengaluru, he said. Clients can task its army of engineers with processing data and running analyses to assist in decision-making, providing a different model to companies like SAS Institute Inc., Oracle and Tableau Software Inc. which make software to store massive quantities of data and provide tools for customers to analyze them.
Mu Sigma also recently released its own subscription-based software product that customers can use to analyze and visualize information themselves, Rajaram said.
Among Mu Sigma's clients are 140 members of the Fortune 500, including retailers, insurers, drugmakers and airlines, according to Rajaram. Microsoft Corp. is one of the customers, its website shows.
Analytics Workforce
Mu Sigma's biggest strength has been in taking graduates from Indian colleges and quickly turning them into an analytics-ready workforce, said Bhavish Sood, a research director at Gartner Inc. in India. The company has built a "factory model" for mathematics talent, he said by phone.
Rising amounts of information have also created opportunities for companies like Palantir Technologies Inc., the Palo Alto, California developer of software that's used by law-enforcement agencies to tie disparate databases together and make it easier to search and analyze information. Palantir, co-founded in 2004 by early Facebook Inc. investor Peter Thiel, raised funds at a $15 billion valuation last year and is seeking more, people with knowledge of the matter said in January.
Cheaper Rivals
The biggest threat to Mu Sigma is from nimbler startups that emerged in the past five years, and who are poaching clients now, said Jack Chen, chief data scientist for marketing decision sciences at Dell Inc., who started using Mu Sigma in 2012 to analyze customer records and improve sales efforts.
"There are several startups willing to do the same work as Mu Sigma, and for much cheaper," Chen said. "Now, I tend to send work their way."
Mu Sigma is working with several divisions at Dell and total revenue from the business is increasing each year, Rajaram said.
Chen's comment is his own opinion, Dell said in an e-mailed statement. Dell maintains a valued relationship with Mu Sigma, and considers it "strategic," David Boocks, director of North America marketing operations for the Round Rock, Texas-based company, said in an e-mail separately.
The amount of data being generated globally is increasing at an average 40 percent annually and will reach 44 trillion gigabytes by 2020, ten times the figure from 2013, according to an April 2014 report prepared by researcher IDC. Even mid-level managers now need to analyze huge amounts of data to make routine decisions on product pricing, marketing campaigns or loyalty programs, IDC analyst Craig Stires said.
"In a world where data is the new oil, we are the Halliburton," Rajaram said, referring to the $40 billion oil-services contractor. "The whole company is based on one simple philosophy: that change is constant, and change is accelerating."
Before it's here, it's on the Bloomberg Terminal.
LEARN MORE