Roche Breast-Cancer Drug Challenges Merck in Immunotherapy Race
Makiko Kitamura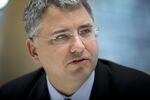 Roche Holding AG reported favorable test results for a breast-cancer medicine, intensifying a neck-and-neck race with Merck & Co. to develop immunotherapies that harness the body's own defense mechanisms to fight the disease.
In an early-stage trial of people with an aggressive form of breast cancer who took the experimental Roche drug called MPDL3280A, tumors shrank in four of 21 patients, with cancer disappearing in two cases, according to findings announced Monday at an oncology meeting in Philadelphia.
Roche and Merck are targeting a segment of the breast cancer market that may produce $5 billion in peak sales, according to Goldman Sachs Group Inc. analysts. While Merck's competing drug for the same form of breast cancer will advance to a mid-stage trial by the end of June, Roche's early test results mean its medicine will go straight to the final phase this year.
"Many of the responses that are being achieved are prolonged," said Leisha Emens, an associate professor of oncology at Johns Hopkins University. "This is very exciting" because patients tend to relapse quickly after receiving chemotherapy for the cancer studied.
Roche and Merck -- along with Bristol-Myers Squibb Co. and AstraZeneca Plc -- are among pharmaceutical giants trying to develop immunotherapies to treat cancer.
'Treatment Backbone'
The new class of medicines probably will "become the treatment backbone" in as many as 60 percent of cancers by 2023, compared with less than 3 percent today, according to Andrew Baum, an analyst at Citibank Inc. It's a market that will be worth at least $35 billion in a decade for all cancers, he said.
While Merck and Bristol have already won regulatory approval for immunotherapies -- Keytruda for melanoma in Merck's case and Opdivo for melanoma and lung cancer in Bristol's -- Roche has a strong track record in cancer research and development that "may translate into commercial differentiation," said Tim Anderson, an analyst at Sanford C. Bernstein & Co.
Roche Chief Executive Officer Severin Schwan is banking on MPDL3280A's promise when used in tandem with drugs such as Avastin, a $7 billion-a-year blockbuster approved for seven types of cancer. Roche, the world's biggest seller of cancer medicines, is currently testing 15 such combinations.
Combination Hopes
Some of the pairings are with therapies that "may actually have unrecognized but important effects on the immune system," Dan Chen, head of cancer immunotherapy development at Roche's Genentech division, said in a phone interview. "Avastin is a beautiful example of that. But we don't think it's going to end with Avastin. We think that there will be other combinations that have similar qualities."
Roche is also studying combinations with Tarceva, approved for lung and pancreatic cancer, as well as Zelboraf for melanoma and Gazyva for blood cancer, among other compounds.
Roche's most anticipated trial results this year could reveal whether MPDL3280A works for lung and bladder cancers, and may prompt an early regulatory filing. The drug is designated a breakthrough therapy by the Food and Drug Administration, meaning it may get expedited approval. Data on lung cancer is expected at a U.S. cancer meeting in May.
About 15 percent of breast-cancer patients have the triple-negative type studied in the trial. In that form of the disease, tumor cells don't have estrogen and progesterone receptors, and lack extra HER2 proteins. MPDL3280A would be used along with chemotherapy, which is now the primary treatment option.
PD-L1 Protein
The type of cancer tends to "progress quickly, so we are in desperate need of new and more effective therapies" with fewer side effects, said Emens of Johns Hopkins.
Roche's compound works by blocking the PD-L1 protein, which hides cancer cells from the immune system, and by activating T cells so they can detect and attack bad cells. In an early trial for kidney cancer, the medicine shrank tumors in 40 percent of patients. It may have $1.9 billion in sales by 2020, according to the average of eight analyst estimates compiled by Bloomberg.
Roche's expertise in exploring genetics to identify the best combinations for each patient will also propel research, Chen said in an interview from Genentech's offices in South San Francisco. Roche is investing more than $1 billion in Foundation Medicine Inc. to get access to genetic tests for tumors.
Roche's potential success with MPDL3280A comes after several setbacks. In December, it reported poor results from an attempt to combine two medicines for breast cancer and abandoned a trial for Alzheimer's disease.
The company also faces imminent competition from makers of biosimilar copies of cancer drugs Herceptin and Rituxan as they lose patent protection.
"It's still early days" for cancer immunotherapy, Chen said. Combining drugs "is where we think the field will ultimately go."
Before it's here, it's on the Bloomberg Terminal.
LEARN MORE