Energy CEOs: Waiting for Oil to Rebound Is Like 'Whistling Past the Graveyard'
Tina Davis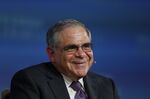 The biggest players in energy have gathered in Houston for IHS CERAWeek, the largest annual industry conference amid the worst price rout in many years. Here are five takeaways:
* U.S. Senator Lisa Murkowski is not only chairman of the Energy and Natural Resources Committee, she's from Alaska, one of the worst hit oil-producing states. She plans to use her position to introduce a bill to lift the U.S. oil export ban and the Iran nuclear deal is part of her argument. "We shouldn't lift sanctions on Iranian oil while keeping sanctions on American oil," the Republican said, likening the export ban to "sanctions on ourselves."
* Naturally, the biggest topic of discussion is the fall of oil prices and where they may go next. Following the bullish Lukoil President Vagit Alekperov on stage, Occidental Petroleum CEO Stephen Chazen said his Russian counterpart is "if not optimistic, a little bit optimistic" in predicting $75 oil. Occidental is planning for $60 oil. Chazen was the second speaker to say the industry is "whistling past the graveyard."
* The first speaker to use the phrase was Nawaf Al-Sabah, CEO of Kuwait Foreign Petroleum Exploration Co., who warned the industry has been slow to recognize there's a new normal of lower prices. M&A activity is being held back, but "buyers can wait for sellers to overcome their denial of the new normal." As for the spate of companies shoring up their balance sheets by selling equity and debt, Al-Sabah said they were "whistling past the graveyard" hoping prices will recover.
* The long-term thinkers are worried that the industry will lose another generation of engineering talent if companies cut too deeply into the bone of their organization. They point out there's already a lost generation from the price rout of the late 1990s that means oil engineers generally are either approaching retirement or lacking experience.
* The Keystone XL pipeline, a rallying point for many in the industry, was raised by a number of speakers. University of Alberta academic Andrew Leach said pipeline proponents make contradictory arguments in saying Keystone would not add to greenhouse gas emissions because the oil sands would be developed in any case and also saying if Keystone isn't built "our bitumen will be landlocked."
Before it's here, it's on the Bloomberg Terminal.
LEARN MORE