Facebook Fugitive's Ownership Claims Rejected on Appeal
Bob Van Voris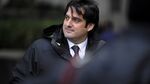 As he's hunted by federal marshals for fleeing prosecution, a western New York man saw his civil claim for half-ownership of Facebook Inc. rejected by a U.S. appeals court.
Monday's ruling by the U.S. Court of Appeals in Manhattan is probably the last stop for Paul Ceglia's 2010 bid for a piece of the world's biggest social network. In his suit, Ceglia claimed he signed a 2003 contract with Mark Zuckerberg, then a Harvard University freshman, entitling him to half of Facebook in exchange for a $2,000 investment. Zuckerberg, Facebook's co-founder, said he agreed only to provide computer coding for Ceglia's own website.
In the meantime, U.S. marshals continue to pursue Ceglia, who faces fraud charges for allegedly faking the contract and e-mails on which he based his civil claim. He removed an electronic ankle bracelet and fled his home last month with his wife, two sons and the family dog. They remain missing.
"Ceglia's arguments on appeal, like much of his prior representations to and conduct before the court, are meritless," a three-judge panel said in a written order upholding the dismissal of the civil claim.
U.S. District Judge Richard Arcara in Buffalo, New York, ruled in 2013 that there was "clear and convincing" evidence that Ceglia's claim was fraudulent and that he'd destroyed and faked evidence in the case. The real contract made no mention of Facebook, which wasn't conceived of until months later, Zuckerberg and Facebook said in the suit.
'Truth Has Prevailed'
"From day one, we've said that this case is a fraud and after reviewing the evidence, the Court of Appeals agreed," Vanessa Chan, a spokeswoman for Facebook, said in an e-mailed statement. "We are pleased that the truth has prevailed."
Joseph Alioto, a lawyer for Ceglia, 41, said he would seek to appeal. Experts hired by Ceglia found the contract to be genuine, and Ceglia passed a lie-detector test, Alioto said.
In addition to affirming the dismissal of Ceglia's civil claim, the appeals court also agreed with a separate ruling throwing out Ceglia's 2013 suit seeking to block his prosecution for fraud.
Ceglia was to begin a trial in that case on May 4, with Zuckerberg slated to testify against him. A judge in Manhattan ruled he forfeited a $250,000 bond by running. The trial has been postponed indefinitely.
U.S. Marshal Charles Salina in Buffalo didn't immediately return a call seeking comment on the hunt for Ceglia.
The case is Ceglia v. Zuckerberg, 14-1365, U.S. Court of Appeals, Second Circuit (Manhattan).
Before it's here, it's on the Bloomberg Terminal.
LEARN MORE