Euro Ends Best Streak in a Year as Greece Orders Funds Movement
Lananh Nguyen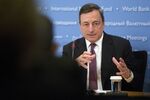 The euro declined, ending a four-day rally against the dollar, as European leaders wrangled with a defiant Greece about how to avoid a default and secure financing.
The single currency dropped versus most of its major peers as Greek Prime Minister Alexis Tsipras ordered local governments to move their funds to the central bank based on needs for cash for salaries, pensions and a repayment to the International Monetary Fund. Federal Reserve Bank of New York President William C. Dudley said he is relatively optimistic that a rebound in U.S. growth will support a decision to raise interest rates later this year, backing demand for the U.S. currency.
"Greece is at the forefront and markets remain nervous about the country's long-term place in the euro," said Joe Manimbo, an analyst at Western Union Business Solutions, a unit of Western Union Co. in Washington.
The single currency slipped 0.6 percent to $1.0738 at 5 p.m. in New York, following a 2.3 percent advance during the previous four days, the longest winning run since April last year. It declined 0.4 percent to 127.95 yen. Japan's currency fell 0.2 percent to 119.18 per dollar.
The euro has dropped 7.9 percent this year, according to the Bloomberg Correlation-Weighted Index. The yen is up 5.7 percent, while the dollar has gained 5.1 percent.
Australia's dollar declined as central-bank Governor Glenn Stevens said cuts in the benchmark interest rate remain possible and the nation's currency is "very likely" to fall further. The Aussie dropped 0.7 percent to 77.25 U.S. cents.
Greek Debate
Greece and its creditors remained at loggerheads. The sides haven't even set 2015 budget targets, let alone policies to meet them, an official representing creditors said Monday, asking not to be named as talks aren't public.
"It's negative because we have Greece on the agenda again," Georgette Boele, a currency strategist at ABN Amro Bank NV, said by phone from Amsterdam Monday. "It will be difficult to reach an agreement."
European Central Bank President Mario Draghi said in Washington April 18 that while Greece's situation is "urgent," it's premature to speculate about the nation quitting the currency union.
Draghi told reporters during meetings of the IMF this weekend that "it's pointless to go short on the euro," echoing comments from 2012 when he said the ECB would do "whatever it takes" to keep the currency union intact. A short position is a bet that an asset will decline in value.
Growth Prospects
As the ECB carries out unprecedented stimulus, Fed officials are looking for signs of economic growth to guide the timing for the first interest-rate increase in almost a decade.
"Despite the weak performance of the first quarter, I believe that the growth prospects for the U.S. economy over the remainder of 2015 will improve," Dudley said in remarks prepared for a speech at the Bloomberg Americas Monetary Summit in New York. "When, hopefully, the data support a decision to lift off later this year, it does not mean that U.S. monetary policy will be tight."
Dudley also highlighted the uncertainty surrounding the timing of any rate increase.
"He's signaling the Fed needs to see a rebound before they move," Vassili Serebriakov, a New York-based foreign-exchange strategist at BNP Paribas SA, said in a phone interview. "There's caution about the data."
Before it's here, it's on the Bloomberg Terminal.
LEARN MORE