Constancio Says Greek Default Doesn't Mean Automatic Euro Exit
Alessandro Speciale and Ewa Krukowska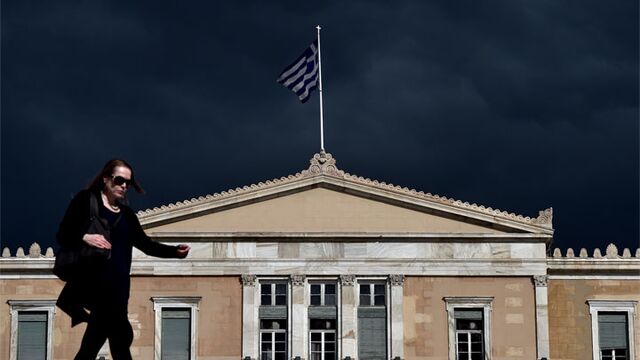 European Central Bank Vice President Vitor Constancio said Greece might not have to leave the euro even if it defaults on its debt.
"We are convinced in the ECB that there will be no Greek exit," Constancio said at the European parliament in Brussels on Monday. "The Treaty does not foresee that a country can be formally, legally expelled from the euro. So, if anything, some choice of that nature would have to be taken by the Greek government, not by us."
The ECB is supporting Greek lenders, and by extension the economy, with emergency liquidity as concern over the government's negotiating tactics for international aid payments spark deposit outflows. In a sign of the severity of the crisis, the government has issued a decree that forces local governments to transfer cash balances to the central bank.
European leaders want Greece to do more to revamp its debt-burdened economy, with progress to be reviewed on April 24 in Riga, when finance ministers from the currency bloc meet. Constancio said it is "essential" that the Greek government reach agreement with its partners.
"We have been forthcoming but I cannot promise that we will fund Greece whatever the situation," Constancio told lawmakers after presenting the ECB's 2014 annual report. "The rules that we have for provision of liquidity to banks are dependent on the banks being assessed as being solvent and having collateral."
Constancio said that the ECB's total exposure to Greece stands at 110 billion euros ($118 billion).
ECB Stimulus
President Mario Draghi said in the annual report that the "extraordinary" range of ECB policy actions, including a 1.1 trillion-euro asset-purchase plan, will facilitate a pickup in euro-area economic growth and inflation.
"Various strands of work initiated in previous years came together to produce a consistent policy response, one that allows us now to envisage with confidence that the weak and uneven recovery experienced in 2014 will turn into a more robust, sustainable upturn," he wrote in the foreword of the report. "Inflation will return without undue delay to the ECB's objective of below, but close to, 2 percent over the medium term."
Parallel Policy
The ECB deployed the ultimate stimulus tool -- quantitative easing -- in January this year after overcoming internal divisions throughout 2014 to respond to falling prices and stalling growth. It cut interest rates twice, offered banks long-term liquidity and started buying private assets. At the same time, it examined the balance sheets of the region's largest banks before becoming their supervisor in November.
"Early evidence shows that our parallel policy initiatives, when combined, were effective," Draghi wrote. "Bank lending rates to non-financial corporations started to decline" and "the contraction of credit appears to be reversing. Growth projections, as well as inflation expectations - reflected both by outside observers and by ECB staff projections - have been revised upward."
With last year's decline in the cost of oil damping inflation and thus boosting consumption, the ECB forecasts stagnating consumer prices and economic growth of 1.5 percent for 2015. While inflation will pick up later this year and rise to 1.8 percent in 2017, the central bank has cautioned that this result is dependent on the full implementation of its stimulus policies.
Catch-Up Needed
Looking forward, the ECB estimates that potential growth, which slowed to as little as 0.5 percent in 2014 from above 1.5 percent before the crisis, will "gradually increase" if governments press ahead with structural reforms.
"The economic and financial crisis has reduced euro-area potential output via two main channels: lower investment and higher structural unemployment," according to the report. "To avoid a long period of low growth, the euro area needs to catch up with best practices in terms of economic efficiency by improving conditions for innovation and entrepreneurship, as well as labor-market institutions, and by relaxing regulations."
Before it's here, it's on the Bloomberg Terminal.
LEARN MORE