Can Ted Cruz Make Rand Paul Obsolete?
In New Hampshire, libertarians give a close look to another kind of conservative.
By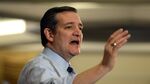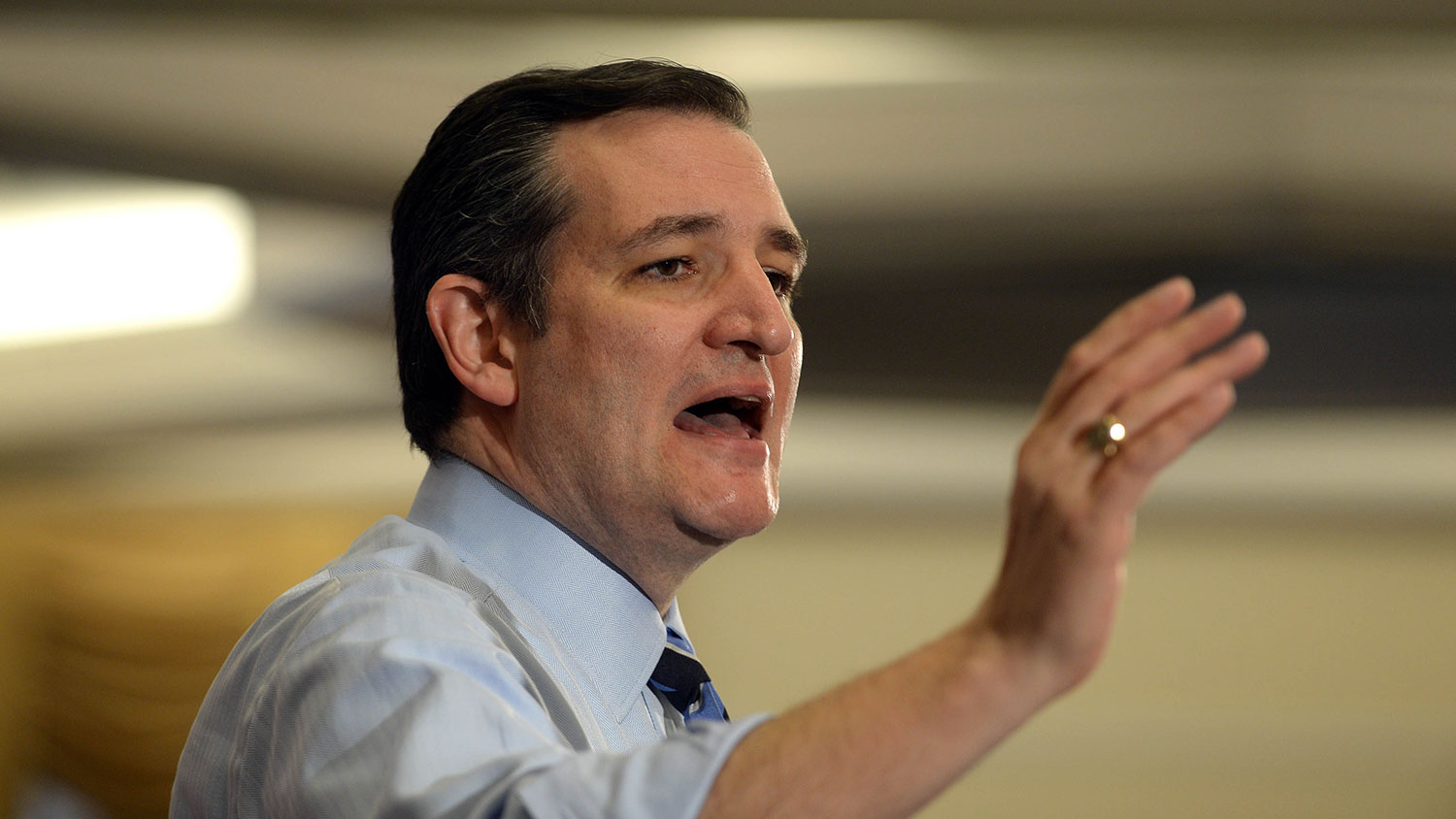 LITCHFIELD, N.H.—On a warm spring Sunday, as guns were fired harmlessly in the close distance, a growing crowd of conservatives waited for Texas Senator Ted Cruz. He was scheduled to speak at the Londonderry Fish and Game Club, at the first 2016 presidential candidate forum organized by a coalition of New Hampshire Second Amendment groups. Kentucky Senator Rand Paul had spoken in the same spot three months earlier. Many of the dozens of voters waiting outside on Sunday had voted for Paul's father, the former congressman from Texas.
"He had a lot of ideas that strayed from the establishment, and he had the moral outlook I had," said Mark Toto, 36.
"I've always been libertarian-leaning," said Mark Gross, 59, a Gulf War veteran who preferred to use his nickname, Gunner.
Yet both men were leaning toward Cruz over Paul's genetic successor. "I'd really love them to get on the same ticket," suggested Toto. "Ted Cruz seems to be a little more down to earth—a little more real, I suppose. Rand Paul's also got a lot of mainstream, watered down Republican, I'm-gonna-go-for-amnesty kind of thing. And Rand Paul's probably the more marketable candidate, which sucks."
Bruce Couturier, 54, wearing a "Fire Pelosi" hat left over from the 2010 elections, agreed with Toto. "They've been on the same side of a lot of issues, but I think Rand Paul is on the wrong side of immigration," he said. "Whoever was on board with taking the troops out of Iraq was wrong."
The libertarian primary, a sideshow in the greater Republican contest, was playing out in real time. In New Hampshire, that fight matters. Ron Paul won 23 percent of the vote in a 2012 primary that Mitt Romney was always expected to win. In an average of early polling, no Republican candidate cracks the 23 percent barrier. Yet Cruz has courted the sort of anti-establishment, anti-Federal Reserve, no-compromise voter who padded Ron Paul's 2012 vote.
The Texan, who arrived in the Senate just two years after Rand Paul, has teamed up with the Kentuckian on NSA and sentencing reform; he has tacked to his right on Iran and Israel. Cruz has met libertarians on the issues that most conservatives agree with, while leaving them on the litmus test issues of American military strength.
"I don't agree with him on foreign policy," Cruz said of Paul in March.
"I guess what makes us different is probably our approach as to how we would make the party bigger," Paul argued weeks later.
Also on Bloomberg Politics: The Definitive Rand Paul Scouting Report, by Mark Halperin and John Heilemann
In Litchfield, Cruz promised conservatives that they could win without "making the party bigger." Just as Paul had, he embraced the trappings of the setting; his wife, Heidi, even doffed an "Armed and Fabulous" baseball cap, provided by one of the gun groups. A man wearing a shirt with the legend "Molon Labe" (Greek for "come and take it") stood feet away from a man plastered in dragon tattoos. They were interested in libertarian principles, and Cruz was offering—unlike Paul—liberty without compromise. When a voter from Massachusetts (a "political refugee," joked Cruz) pressed Cruz on his theory that running right would create an "uprising" against the Democrats, Cruz insisted that only pundits and strategists disagreed.
"If you compare 2004, the last race Republicans won, to 2008 and 2012, by far the biggest difference is the millions of conservatives who showed up in 2004, who stayed home in 2008, and stayed home in even bigger numbers," said Cruz. "So how do you win? I think the key question is, you figure out how to bring back those millions of voters."
Cruz called this the "Washington fallacy." It had been challenged by Karl Rove, the architect of the aforementioned 2004 campaign; that did not matter in the pitch to libertarians. According to Cruz, even if voters liked the Pauls, they could take solace that the party would win without the sort of outreach Rand Paul was making himself known for.
"It's conventional wisdom that we are competing for the same voters," said Cruz spokesman and strategist Rick Tyler in a conversation with Bloomberg, "but when you look at economic and foreign policy, I don't see that Rand is competing for the Tea Party vote. That's already coming to us. And if libertarians get upset with Rand, I think that the Cruz campaign is a natural place for them to go."
In his speeches this weekend in New Hampshire, Cruz offered the GOP's libertarian voters some ways to achieve their goals without any feints toward the center or the left. Paul has linked his opposition to Loretta Lynch's nomination for attorney general to her support for civil forfeitures. In Litchfield, Cruz told voters of how he'd stared down Lynch and watched her refuse to buck the Obama administration's executive orders—civil forfeitures, a libertarian nightmare, had nothing to do with it.
When the Litchfield speech ended, Cruz milled around the site as pulled pork was warmed on a grill. John Prendible, a 49-year-old voter from Bedford, asked Cruz and his wife to join him in a prayer about the armor of God. (Prendible clarified that he was not a pastor, "just a Christian.") Afterward, Bloomberg asked Cruz if, as president, he would continue the war on drugs.
It was a question Paul could answer with a quick no. Yet Cruz, while not saying whether the war on drugs had been a failure or success, emphasized that he wanted the same sort of legal reform that Paul wanted. He had co-sponsored the Smarter Sentencing Act (though not Paul's other bills) and agreed with him that the justice system had become slanted against one group of Americans.
"I think there are a great many people serving sentences right now that are unfair, and that are frankly taking up prison space and prison facilities that should have been taken up by violent criminals," said Cruz. "I don't think it makes sense for so many young people, particularly young African-Americans, to serve long prison sentences for non-violent crime."

When Cruz finished with the press, he took a walk to the gun range where he and Heidi could fire off some rounds. Just one hour later, he was at the home of a New Hampshire state representative, overlooking a range of hills and forests, for a house party meet-and-greet with legislators who wanted to endorse him. After a short speech, Cruz took questions and got to reiterate his Lynch stance and condemn the IRS.
Toward the end, he called on an anti-vaccine activist who threatened to trap him in one of the anti-state, libertarian cul-de-sacs where agreement and dismissal would hit him just as hard. Paul, after all, had spent an aggravating week of the winter trying to prove that he was not a so-called anti-vaxxer because he'd heard of some parents who worried that vaccines had damaged their children.
Cruz slipped right out of the noose. "We have two little girls," he said, staring down a passionate activist who had already asked New Jersey Governor Chris Christie to support state exemptions for vaccines. "We vaccinate our girls. I think it is a good thing to do for children; I think it is a good thing to do for public health. I also think it is an issue for the states." In the moment, in the cause of winning over voters who might have doubts about Paul, that was enough.