Abe Shrine Offering, New War Apology Risk Riling Asian Neighbors
Isabel Reynolds and Takashi Hirokawa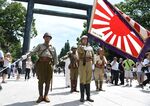 Japanese Prime Minister Shinzo Abe sent an offering to a controversial war shrine after saying he won't repeat previous war apologies in a statement to mark the 70th anniversary of the end of World War II.
In a move that risks angering Asian neighbors, Abe sent a traditional "masakaki" tree offering for Tuesday's start of the spring festival at Tokyo's Yasukuni Shrine, according to a spokesman for the shrine. Hours earlier, he relayed his strongest signal yet that he plans to remove terms such as "aggression" or "colonial rule" from the August statement.
"I uphold the basic thinking behind past war apologies, which means there isn't a need to reiterate them," Abe said on a BS-Fuji television show Monday evening.
The offering to the shrine and exclusion of such terms of atonement on a key anniversary will probably irritate China and South Korea, where widespread bitterness over Japan's past militarism has soured relations. Abe's comments come before a speech Wednesday on Japan's postwar contribution at a conference in Indonesia expected to be attended by Chinese President Xi Jinping. He will then travel to the U.S. where he will become the first Japanese premier to address a joint-session of Congress.
Abe and Xi may hold a summit on the sidelines of the Indonesia conference, the Yomiuri newspaper reported, citing unidentified Japanese government officials. The government in Beijing may decide on the meeting after examining the content of Abe's speech there, the paper said.
The leaders of Asia's two largest economies looked ill-at-ease as they shook hands before their first -- and only --summit in Beijing in November. Even so, consultations between politicians, diplomats and defense officials have since restarted, some after years of hiatus.
Past Statements
In a 1995 statement, then-Prime Minister Tomiichi Murayama said Japan "through its colonial rule and aggression, caused tremendous damage and suffering to the people of many countries, particularly to those of Asian nations." Prime Minister Junichiro Koizumi used similar phrasing in his own statement a decade later.
"It will be my own thoughts as prime minister about Japan's past, remorse for the war, and our path as a peaceful country based on that remorse after the war," Abe said on the TV show about the content of his planned statement.
Japan occupied Korea for 35 years before surrendering at the end of World War II, a conflict that killed over 30 million people in Asia including more than 20 million Chinese. China and South Korea accuse Abe of playing down Japan's responsibility for the conflict and for atrocities committed by the Imperial Army such as the killing of Chinese civilians after the capture of Nanking and the use of women as sex slaves for the troops.
Loosening Shackles
Abe is attempting to loosen the shackles of Japan's postwar pacifist constitution amid territorial tensions with an increasingly assertive China. Last year, he lifted a ban on defense exports and reinterpreted the 68-year-old constitution to allow Japan to defend other countries.
The Yasukuni Shrine honors millions of Japanese war dead, including 14 wartime leaders convicted as Class A war criminals after the conflict.
A similar offering by Abe for the shrine's autumn festival last year, prompted China's Foreign Ministry spokesman, Hong Lei, to urge Japan to "look at history squarely and honestly" and "break away from its militarist past."
Before it's here, it's on the Bloomberg Terminal.
LEARN MORE