Yemenis Brave Air Raids as Civilian Cost of War Rises
Mohammed Hatem and Nafeesa Syeed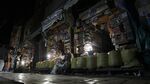 When bakers brave air raids to open their shops in the southern Yemeni port city of Aden, Ghalib Mansur waits in long lines to buy bread, sometimes for hours.
Food supplies have been running so low since Houthi rebels advanced toward Aden last month, triggering airstrikes by a Saudi Arabia-led coalition, that he worries he won't be able to care for his family for much longer.
"I've been forced to feed my kids biscuits and tea, but even biscuits have become difficult to find," Mansur said. "We're in a very miserable situation."
Millions of Yemenis, especially in the south, are living through similar hardship, cut off from food, water, electricity and other basic needs. As the bombing campaign enters its fourth week, aid agencies are warning of a burgeoning humanitarian crisis in what is already the Arab world's poorest country.
"Probably in the last 10 years, it's one of the worst crises that has hit Yemen and the situation is deteriorating very rapidly," Abeer Etefa, World Food Programme's spokeswoman for the Middle East and North Africa, said by phone from Cairo. "We're talking here about really a very grim outlook."
At the beginning of the month, the Houthi-controlled Saba news agency said there were enough food stocks to last six months. But amid the fighting, those supplies are dwindling fast. On April 8, thick clouds of smoke hung over Aden when grain silos went up in flames.
Food Shipments
No further food shipments are expected, Etefa said, as the coalition has blockaded ports to control shipping routes.
A country of 26 million, Yemen imports the bulk of its food, including nearly all its wheat and rice. The number of "food insecure" people in Yemen has increased to 12 million, a 13 percent rise since the start of the crisis, the WFP says. The United Nations issued an appeal Friday to international donors seeking $274 million in humanitarian aid for Yemen. In response, Saudi Arabia's King Salman ordered a donation in that amount, the official Saudi Press Agency reported.
Across the country, food prices have doubled and fuel costs have risen four-fold. The price of 50 kilograms of flour has risen to $47 from $23 while a 20-liter canister of gasoline has shot up to about $125 from about $14.
Prices matter little, though. With shuttered shops and sparse stocks, "even those who have some savings can't buy what they want," said Nour Fadhal, a resident of Aden.
'Starving Soon'
Yemenis "will be starving soon, literally," said Farea Al-Muslimi, a visiting scholar and Yemen analyst at the Carnegie Middle East Center in Beirut.
The Houthis, a Shiite Muslim group, advanced from their northern stronghold last year and seized the capital, Sana'a, as a power struggle with Saudi-backed President Abdurabuh Mansur Hadi worsened. Hadi later fled to Aden and then to Saudi Arabia.
Sana'a looks "like a city of ghosts," said AbduRahman Hussain, a filmmaker who worked on an Oscar-nominated documentary about the 2011 Arab Spring uprisings that led to the ouster of President Ali Abdullah Saleh, who later became a Houthi ally.
Tired of shortages and insecurity, more and more civilians have taken up arms against the Houthis. Pro-Houthi protesters blame the Saudis and Hadi for the misery.
"The country has become divided," Hussain said. "And it's going to get even worse."
Several Sunni-led nations joined Saudi Arabia's campaign, the aim of which officials say is to reinstate Hadi's government and force parties to resume peace talks. At least 364 civilians have been killed and 681 wounded since the airstrikes began March 26, according to the UN.
More Refugees
A coalition airstrike hit an Oxfam storage facility housing humanitarian supplies in the northern Sa'ada province, the U.K.- based relief group said in a statement Sunday.
People are attempting to flee by land and sea, as all airports have closed. The UN said it's making contingency plans to receive as many as 30,000 Yemeni refugees in Djibouti and 100,000 in Somalia over the next few months.
After heavy airstrikes in Sana'a frightened Laila Abdu's children, the family fled to Taiz, a city south of the capital, only to find that life's not much better there as the fighting has followed them.
"What freaks me out is the nightmarish feeling haunting me when I imagine that we could be displaced, refugees like Syrians," she said. "Where shall we go?"
Before it's here, it's on the Bloomberg Terminal.
LEARN MORE