Asking Prices for U.K. Homes Hit Record as Shortage Worsens
Jillian Ward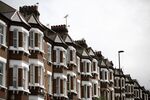 Asking prices for U.K. property climbed to a record in April as a shortage of homes for sale worsened, Rightmove Plc said.
The average price rose 1.6 percent from March to 286,133 pounds ($428,000), reflecting a 4 percent drop in the number of new sellers this year compared with 2014, the property website operator said Monday. Values in London rose 2.5 percent.
Property-price gains are overshadowing other improvements in the cost of living, with data Friday showing wage gains outstripped inflation for a fifth month. All major political parties have promised to do more to alleviate strains in the housing market with less than three weeks to go before the May 7 general election.
"As we approach the election the highest ever cost of housing sets an interesting challenge for political leaders," said Miles Shipside, director at Rightmove. "With low wage inflation, the increasing cost of housing is another burden for many."
Gains in asking prices in some regions since the last general election in 2010 illustrate the difficulties prospective buyers face. Values are up 49 percent in London, contributing to a 28 percent increase across the south of England, according to Rightmove's data.
Asking prices in all 10 regions tracked by Rightmove rose from March, led by a 4.4 percent gain in Wales. Nationwide, the average price is up 4.7 percent from a year ago. In the capital, the average has risen an annual 6.8 percent to 594,585 pounds.
Purchasing Power
Though Britons' purchasing power is the strongest it's been in years, that hasn't translated into a boost for Prime Minister David Cameron's Conservative party in voter opinion polls. The Tories are about even with the opposition Labour party, leading Cameron to pin his re-election hopes on a plan to build 200,000 new homes and to allow 1.3 million poorer families the chance to buy their own homes.
The latter pledge is a throwback to the right-to-buy policy introduced under Margaret Thatcher in the 1980s. Cameron set out another Thatcherite proposal yesterday when he pledged to sell shares of Lloyds Banking Group Plc to the public in a discounted privatization.
The opposition Labour Party has pledged to build at least 200,000 new homes a year by 2020.
The prospect that neither major party will win a parliamentary majority has created the most uncertain general election in a generation, leaving smaller parties with greater sway over economic policy.
"In spite of the distractions and uncertainty surrounding the upcoming election, demand for the right roof over your head seems unchecked," Shipside said. For some, their "personal housing agenda is perhaps higher than the bigger-picture political one."
Before it's here, it's on the Bloomberg Terminal.
LEARN MORE