Prologis, Norway Buy KTR Real Estate for $5.9 Billion
Sree Vidya Bhaktavatsalam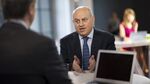 Prologis Inc., the world's largest owner of industrial real estate, and Norway's $890 billion sovereign wealth fund agreed to buy KTR Capital Partners for $5.9 billion to expand in key U.S. markets.
The purchase will be made by Prologis U.S. Logistics Venture, a partnership with Norges Bank Investment Management, the San Francisco-based company said Sunday in a statement. The deal includes the assumption of about $700 million in debt and the issuance of as much as $230 million of common limited partnership units in Prologis LP to KTR.
Prologis, with a market value of about $22 billion, said the acquisition expands its position in southern California and Florida, New Jersey as well as Chicago, Seattle and Dallas. Warehouse properties have become attractive as global trade increases, luring investors including Brookfield Property Partners LP and TPG Capital in recent years.
"It is rare to have the opportunity to acquire a portfolio of such high asset quality, customer profile and market composition that is so consistent with our own," Hamid Moghadam, chairman and chief executive officer of Prologis, said in the statement.
Prologis expects the transaction to add about 14 cents a share to its forecast for annual core funds from operations, on a stabilized basis. The company said in a separate statement on Sunday that the first quarter's core funds from operations rose 14 percent from a year earlier to 49 cents a share.
Norges Expands
KTR owns about 70 million square feet of real estate in 25 markets, concentrated in California, New Jersey, Chicago, South Florida and Texas, according to its website. The company is led by Jeffrey Kelter, the former CEO of Keystone Property Trust. Keystone was acquired by a group including Prologis in 2004 for about $1.7 billion.
Norges Bank Investment Management, Norway's wealth fund, made its first industrial property purchase in 2012 with the acquisition of a 50 percent stake in a European property portfolio from Prologis. The fund became among the top foreign buyers of real estate in the U.S. last year, buying stakes in properties including three towers from Boston Properties Inc.
The fund is seeking to grow its real estate holdings to 5 percent of its total portfolio, from about 2 percent currently, in an effort to boost returns. The fund also owns office and retail properties in cities including Paris, London and New York and will soon make its first investment in Asia.
U.S. industrial real estate prices climbed 17 percent in the 12 months through February and are within 2 percent of their 2007 peak, according to Moody's Investors Service. Moghadam said on the company's October earnings conference call that the transaction market is "very competitive" with "significant capital" chasing top-quality buildings.
Before it's here, it's on the Bloomberg Terminal.
LEARN MORE