Japan, U.S. Seek Trade Pact Deals on Rice, Auto Parts
Aya Takada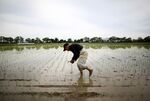 Japan and the U.S. made progress on contentious trade topics in the past week and the countries' top negotiators will continue to work on outstanding issues early Monday, Japanese Economy Minister Akira Amari said.
Access to agriculture and auto parts are the biggest sticking points for Amari and U.S. Trade Representative Michael Froman, who met in Tokyo Sunday night for over an hour.
Froman's two-day visit comes ahead of Japanese Prime Minister Shinzo Abe's trip to Washington April 28. It is unclear if the sides can hammer out a deal before Abe meets with President Barack Obama.
Amari told reporters after the meeting that he and Froman confirmed progress made during recent "working level" discussions, setting up a way forward for a second day of cabinet-level talks, Kyodo News reported. Froman said he "had a good discussion" with his counterpart, Kyodo added.
Both sides need to soften their stance to reach an agreement, Amari said on public broadcaster NHK Sunday before his meeting with Froman. The bilateral talks could lead to a broader Asia-Pacific trade pact involving 10 other nations.
An accord giving the U.S. and Japan access to each others' markets for products such as rice, pork and automobiles would take effect only if incorporated into the Trans-Pacific Partnership, a 12-nation negotiation that Japan joined in 2013. Although all the governments must agree, the U.S. and Japan are by far the largest economies involved.
Negotiating Cautiously
"We cannot accept all the U.S. requests on rice imports," Amari said on NHK, without elaborating on the demands. "We will negotiate cautiously for a deal that could be accepted by Japanese lawmakers."
Amari couldn't ignore a resolution by Japanese lawmakers, which says any trade deal shouldn't undermine sustainability of rice production by local farmers, he said.
Rice, wheat, barley, beef, pork, dairy goods, sugar and starch crops are considered politically sensitive products that have to be protected, according to Hiroshi Oe, Japan's TPP ambassador. Japanese farmers are a central constituency of the ruling Liberal Democratic Party.
The U.S. is demanding that Japan should increase imports of its rice by 215,000 metric tons, of which 175,000 tons is for table rice and the remainder for food processing, said NHK.
Japan bought 360,000 tons from the U.S. last fiscal year, almost half the volume that the nation must import under a World Trade Organization deal. The country imposes a duty of 341 yen ($2.87) per kilogram on imports above the quota.
Declining Consumption
Japan's rice consumption is declining as its population ages and shrinks. Table rice consumption will fall 1 percent to 7.8 million tons for the year to June 30, the Agriculture Ministry forecasts, a decline of 10 percent from a decade earlier. Consumption will continue to slide by about 80,000 tons annually for the foreseeable future, Vice Agriculture Minister Yoshitsugu Minagawa has said.
For auto parts, Japan is demanding an immediate elimination of 2.5 percent tariffs on imports. Amari told NHK Sunday that he expects Froman to concede on the duties as the product isn't politically sensitive for the U.S. and the American vehicle industry is dependent on parts supply from Japan.
Froman said Thursday that the broader group of countries is also nearing completion of the Asia-Pacific pact, which would cover about 40 percent of global trade.
Fast Track
"I expect them to welcome progress in TPP talks at their summit meeting," Amari said of Abe's meetings with Obama this month.
A bipartisan group of U.S. lawmakers on Thursday introduced legislation that would let the president submit trade deals to Congress for an expedited vote without amendments.
For TPP members to complete the trade deal, Japan and the U.S. must wrap up bilateral talks and Congress needs to pass the Trade-Promotion Authority bill, Amari said.
"I expect the TPA bill to be passed by the end of May," he said.
Before it's here, it's on the Bloomberg Terminal.
LEARN MORE