Former China Security Head Spied on Leaders, Probe Said to Find
Bloomberg News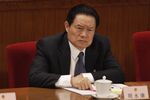 China's investigation of former security chief Zhou Yongkang found evidence that he ordered unauthorized spying on top leaders including President Xi Jinping, according to two people familiar with the probe.
The investigation showed that Zhou used phone taps and other methods to gather information on the family assets, private lives and political stances of China's leaders, according to one of the people, who asked not to be identified because the information is confidential.
Xi's sweeping anti-graft effort has helped him solidify his grip on power since he became Communist Party chief in late 2012, making him the strongest leader since Deng Xiaoping. He's frequently warned the campaign is necessary to preserve the legitimacy of the Communist Party. Zhou, who retired from the Politburo Standing Committee -- the top leadership group in the party -- in 2012, is the highest-ranking individual accused of the more than 100,000 officials caught so far.
Zhou leaked party and national secrets, state news agency Xinhua reported in December, citing a party statement announcing his expulsion. No further details of the state secrets charges against him have been announced. The probe into the 72-year-old, who was also charged April 3 with bribery and abuse of power, began with the approval of Xi and retired party leader Jiang Zemin, according to the second person, who asked not to be identified.
Prosecutors and the party's Central Commission for Discipline Inspection didn't respond to faxed requests for comment about the case. Zhou was arrested and expelled from the party in December and can't be reached for comment. No defense lawyer has been announced.
Closed Trials
Supreme Court President Zhou Qiang was reported last month by Xinhua as saying that Zhou's trial will be open "in accordance with the law," suggesting that areas unrelated to state secrets may be made public. No date has been announced for the trial, which the nation's top prosecution agency said on its website will be held in the northern port city of Tianjin.
The investigation into Zhou found that Liang Ke, the former director of the Beijing Municipal Bureau of State Security, helped him gather information on party leaders, one of the people with knowledge of the probe said.
Former deputy police chief Li Dongsheng released some of the information to overseas Chinese language websites, the person said, without specifying the websites. Li, who has been charged with bribery, and Liang, who has been removed from office but not officially announced as under investigation, couldn't be reached for comment.
Bo Links
State media including Xinhua have linked Zhou to former Chongqing party chief Bo Xilai, who was seen as a rising star in the party until he was arrested and tried for abuse of power and bribery. Zhou and Bo "engaged in political activities" that "sabotaged party unity," according to a Supreme People's Court report in March.
Bo, sentenced to life in prison in 2013, testified he received orders from a law and order committee then headed by Zhou in early 2012 on how to cover up the defection of a police chief, a person present during his trial said, asking not to be identified given the sensitivity of the matter.
Zhou warned Bo in 2012 he was about to be removed from his post, Reuters reported April 15, citing people it did not identify.
Zhou "severely harmed the Party and the people and led a number of officials astray," the party said in January. His stain "must be washed clean." He faces a possible death penalty or life in jail if convicted.
Gang of Four
Two other former top officials, former president Hu Jintao's one-time chief of staff Ling Jihua and Xu Caihou, once vice-chairman of the military's top decision making body, have also been targeted in Xi's anti-graft drive. Xu died last month and Ling, who has been removed from his posts and is under investigation, couldn't be reached for comment.
Together with Zhou and Bo, the "so-called new Gang of Four" posed a potential challenge to Xi's leadership of the party, according to Zhang Lifan, a Beijing-based historian who previously worked at the Chinese Academy of Social Sciences.
The official People's Daily newspaper said in a commentary on Monday that the cases of Zhou and Ling showed a pattern of family-based corruption that led to "power-money exchanges".
Xi's efforts have nabbed both "tigers" -- or senior officials -- and "flies." Unlike predecessors Hu Jintao and Jiang, Xi assumed the roles of party general secretary, China's president and head of the military within four months. He also established and chairs a new national security council.
State media outlets this year have warned that factions within the party will not be tolerated, and Xi has urged officials to "'strictly keep the party's secrets."
The corruption charges against Zhou cover almost his entire political career from 1988 to 2012, the Supreme People's Procuratorate said. His intentional disclosure of state secrets "was particularly serious," according to his indictment.
— With assistance by John Liu
Before it's here, it's on the Bloomberg Terminal.
LEARN MORE