Cameron Warns of 'Frightening' SNP-Labour Pact in Bid for Votes
Alex Morales and Scott Hamilton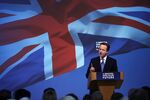 U.K. Prime Minister David Cameron warned of the "frightening prospect" of a Labour government propped up by the Scottish National Party as he sought to persuade voters to stick with his ruling Conservatives at the May 7 general election.
Scottish National Partly leader Nicola Sturgeon said on the BBC's "Andrew Marr Show" on Sunday that she's prepared to work with Ed Miliband's Labour to "lock David Cameron out of Downing Street," the latest in a series of overtures she's made to woo Miliband into an anti-Conservative pact.
"This would be the first time in our history that a group of nationalists from one part of our country would be involved in altering the direction of the government of our country," Cameron said on the same show. "It is a very frightening prospect for the rest of the country."
With fewer than three weeks to go until the vote, polls show neither the Tories nor Labour are on course to win an outright majority, which would lead to a second straight hung parliament. That leaves Miliband and Cameron dependent on support from smaller parties including the SNP -- which polls indicate will overtake Cameron's coalition partners -- and the Liberal Democrats, to become the third-biggest party.
"If there are more anti-Tory MPs in the House of Commons than Tory MPs, then if we work together, we can lock David Cameron out of Downing Street," Sturgeon said.
"Nicola Sturgeon is asking people to gamble on getting rid of a Tory government," Miliband said Monday in an e-mailed statement ahead of a visit to the Scottish Trade Union Annual Congress in Ayr. "The only way to guarantee getting rid of a Tory government is to vote Labour."
'Powerful Position'
Miliband called suggestions he plans to negotiate a coalition with the SNP "nonsense" in an interview with the Observer newspaper. "I've ruled it out and I've said it's not going to happen," he said.
That still leaves open the prospect of an agreement on a so-called confidence and supply or vote-by vote basis, which Sturgeon signaled she may support.
The SNP may be in a "very very strong and powerful position" after the vote, making it "possible to change the direction of a government on individual issues," she said.
At the same time, Sturgeon, whose party is due to publish its manifesto on Monday, is trying to assuage fears that she'll act only in Scotland's interests. Her party's policies would free up an extra 9.5 billion pounds ($14 billion) a year by 2020 for the National Health Service, she's due to say Monday, according to prepared remarks e-mailed by the SNP.
Firewall
"We have made clear that we are prepared to support a bill at Westminster to restore the National Health Service in England," Sturgeon is due to say. "We can end the Tory agenda of cuts, privatization and patient charging that is threatening the future of the NHS south of the border."
Under a confidence and supply deal, the SNP would agree to back Labour on the budget and on other key legislation in return for policy concessions. The SNP last year fought for and lost a referendum to give Scotland independence from the U.K.
Labour is "not going to start getting involved in coalitions or deals with a party that wants to break up the U.K.," Ed Balls, Labour's finance spokesman, said on Sky News. "There wouldn't be any input into Labour's first budget," he said, adding there would be an "absolute 100 percent total firewall" in that respect.
Devolved Administration
The SNP currently has six of Scotland's 59 seats in the House of Commons, while Labour has 41. Bookmaker Ladbrokes Plc on Friday said the SNP are now on course to win 53 seats, nearly wiping out Labour in Scotland.
Cameron will announce in a speech on Monday that if he wins the election, his government will conduct an annual review to ensure that policies passed by the devolved administration in Scotland don't adversely affect the rest of the country.
"As we go further in devolving powers to Scotland, we need to make sure devolution works for all the other all parts of this country too," Cameron will say, according to e-mailed prepared remarks. Scottish plans to cut air passenger duty, for instance, "could distort competition and see business drawn north of the border, with a huge impact on airports in the rest of the country," he'll say.
Cameron will also set out an ambition that three in five new jobs will be created outside London and the southeast, according to his office.
Liberal Democrats
An Opinium poll of U.K. voters for the Observer on Sunday put the Conservatives on 36 percent and Labour on 32 percent. In contrast, a survey by YouGov Plc for the Sunday Times had Labour on 36 percent and the Tories on 33 percent. Both polls had the U.K. Independence Party on 13 percent and Deputy Prime Minister Nick Clegg's Liberal Democrats on 8 percent.
Clegg, who has made education the centerpiece of his campaign, is due Monday to outline a five-point commitment to teachers and parents that includes an additional 2.5 billion pounds of funding a year for primary and secondary education by 2020. The Liberal Democrats are seeking to portray themselves as a centrist part that can moderate the worst excesses of both main parties.
"We are willing to work with other parties in the national interest and we've shown we can do that," Business Secretary Vince Cable, a Liberal Democrat, said in an interview on the Marr program. "We will be able to find some common ground with Labour or the Conservatives."
Before it's here, it's on the Bloomberg Terminal.
LEARN MORE