Chris Christie's Comeback Tour Might Have One Catch
The New Jersey governor won attention, but only by playing a dangerous game with the third rail of American politics.
By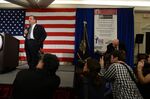 Chris Christie had a simple goal when he came to New Hampshire this week: prove he had a fighting chance in the early primary state that he has to win in order to have a shot at the Republican nomination.
He did that, first by capturing national headlines with daring positions on two major issues, then by dazzling voters in town halls, including one held in an Exeter sports bar attached to a bowling alley. (It was cash only, his press contacts warned.)
But he took a huge chance by calling for raising the retirement age for Social Security—the well-known third rail of American politics—and other entitlement cuts. Later, he vowed to stop the proliferation of legal marijuana, which Americans increasingly support, especially young voters.
Julian Zelizer, a Princeton University professor of history and political science who tracks Christie, said the call for ending Social Security payments to those making $200,000 or more in additional income was certain to hurt his standing with older voters.
"He's just trying to get back in the game and get some attention—in that respect he got what he wanted," Zelizer said. "But it may not be enough and in the long-run he said some things that could hurt him."
Christie got a taste of how it might hurt on Friday night. During the town hall today at Shooters, the Exeter tavern, the air conditioning worked overtime and attendees fetched beers for one another as Christie's calls to end Obamacare and pare down government were greeted with cries of "Hell yeah!"
Later, Christie got into a heated exchange with several crowd members who said it would be unfair to deny benefits to people who spend their working careers paying into Social Security. The tide only turned back when another attendee said he thought Christie needs to give a "better answer" on climate change and he replied, "You don't want a better answer, you just want me to give your answer." The crowd roared with applause. 
Speaking to reporters in Manchester on Tuesday, Christie attempted to tamp down the symbolic importance of the week on his possible 2016 campaign.
"Who knows—we're in April of 2015 so this is about me getting to know folks up here in New Hampshire better and get them to know me better," Christie told reporters today in Manchester. "I'm just enjoying myself. It's a good way to spend a Friday. I don't know about momentum—it's much too early."
Later, when asked how much he "really wanted it," he said: "I don't do anything halfway in my life."
The week didn't come without its low points: the scandal over political lane closings in September 2013 at the George Washington Bridge hung in the air at several stops and Moody's Investors Service issued its ninth credit downgrade of Christie's term late Thursday, citing his administration's decision to lower payments into the state pension fund.
Nevertheless, some Granite State voters seemed intrigued.
Mike Morningstar, 70, briefly chatted with Christie at the Made in New Hampshire Expo of locally produced goods, where he and his wife hawked homemade dog chews carved from antlers. The Bridgegate scandal over politically motivated traffic jams? A small matter that Christie can easily overcome, he said.
Morningstar, whose stand was among dozens pitching everything from carved wooden watches to mead, said he's an independent but would consider registering as a Republican to vote for Christie.
"Everyone's got flunkies working for him—everyone, so you stand up and take your punches then move on," he said. "He's a tough guy who tells it like it is. And we've got enough wimps in our government."