pursuits
U.S. Stocks Fall Amid Global Selloff on AmEx, Inflation Concerns
Oliver Renick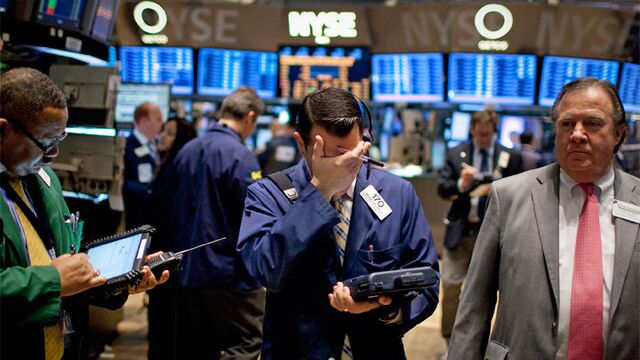 U.S. stocks retreated amid a global selloff, falling the most in three weeks, as American Express Co. tumbled, data signaled stronger inflation and China tightened trading rules.
American Express fell 4.4 percent to its lowest level since 2013 after quarterly revenue missed estimates. Travelers Cos., 3M Co. and UnitedHealth Group Inc. dropped more than 2.3 percent to pace declines in the Dow Jones Industrial Average as all 30 of its components slid. Advanced Micro Devices Inc. slumped 10 percent after saying it is hard to see whether the second half will be "substantially better" than the first half of the year.
The Standard & Poor's 500 Index fell 1.1 percent to 2,081.18 at 4 p.m. in New York, below its average price for the past 50 days. For the week, the gauge declined 1 percent. The Dow lost 279.47 points Friday, or 1.5 percent, to 17,826.30. The Nasdaq Composite Index slid 1.5 percent. About 7.1 billion shares traded hands on U.S. exchanges Friday, 6.4 percent more than the three-month average.
"We're very early in the earnings season," said Steve Bombardiere, an equity trader at Conifer Securities LLC in New York. "We need to get further into the season until we get some direction, so right now these little things in the background are good fodder for some short-term gut wrenching."
Trading Range
The S&P 500 was little changed yesterday after approaching its all-time high. While equity indexes from Asia to Europe have climbed to multiyear highs in recent days, the S&P 500 and Dow last hit theirs on March 2, the same day the Nasdaq Composite Index topped 5,000 for the first time in 15 years. The 32-day stretch without celebrating a fresh high is the S&P 500's longest since July 2013.
The benchmark index has been stuck in a range of 52 points since March 20 when it last neared its record, as weaker-than-forecast data from hiring to manufacturing elevated concern about earnings while at the same time bolstered the case for keeping interest rates lower for longer.
Investors are weighing economic reports for clues on the timing of the Federal Reserve's first rate increase since 2006. Fed Chair Janet Yellen has said that while rates will probably rise this year, any decision depends on economic data.
The cost of living in the U.S. rose in March for a third month, signaling inflation is starting to firm. A separate report showed consumer confidence improved in April to the second-highest level in more than eight years as Americans held more favorable views of the economic outlook and inflation.
China Move
Analysts predict earnings for S&P 500 companies fell 4.3 percent in the first quarter, which would be the first such period of negative profit growth since 2009, amid concern over a surging dollar and worse-than-forecast economic reports.
The Chicago Board Options Exchange Volatility Index jumped 10 percent to 13.89 on Friday. The gauge, known as the VIX, has fallen 28 percent so far this year.
U.S. equity futures slumped early in the day after Chinese regulators clamped down on the use of shadow financing to buy equities and expanded the supply of shares available for short sellers.
Regulators in China banned the margin trading businesses of brokerages from taking part in umbrella trusts, and said fund managers can lend shares for short selling. Investors in China have ramped up wagers on stocks by borrowing through umbrella trusts, which allow for more leverage than brokerage financing. The benchmark Shanghai Composite Index more than doubled over the past 12 months.
Greece Standoff
Chinese stock-index futures on the Hang Seng Index tumbled more than 2 percent in after-hours trading. In the U.S., the Bank of New York Mellon China ADR Index of U.S.-listed Chinese companies slid 2.1 percent, the most since January.
"The China news shows there was a lot of leverage in that market and there's a lot of leverage in ours, it shows how vulnerable the market can be when that's the case," said Matt Maley, an equity strategist at Miller Tabak & Co. in Newton, Massachusetts.
Greece's latest standoff with its creditors has also drawn renewed concern as negotiations over its economic reform commitments drag on before it receives the next disbursement of its bailout funds to avoid a default.
All 10 of the S&P 500's main groups fell, as technology, consumer discretionary and financial companies tumbled more than 1.3 percent. American Express dropped 4.4 percent to its lowest since October 2013. Travelers, Intercontinental Exchange Inc. and E*Trade Financial Corp. slumped more than 2.4 percent.
Mattel Jumps
Software companies Adobe Systems Inc. and Salesforce.com Inc. lost at least 2.6 percent to help send tech shares lower. EBay Inc. retreated 2.2 percent, while Yahoo! Inc. fell 2.9 percent.
Losses of more than 2.7 percent in Gannett Co., Amazon.com Inc. and GameStop Corp. paced declines among consumer discretionary shares. Time Warner Cable Inc. lost 5.4 percent and Comcast Corp. dropped 2.1 percent after people familiar with the matter said staff attorneys at the Justice Department's antitrust division are nearing a recommendation to block Comcast's bid to buy Time Warner Cable.
Homebuilders fell for a second day as Lennar Corp. and Toll Brothers Inc. dropped more than 1 percent. An S&P gauge of builders slid 1.2 percent for its biggest two-day retreat in three months.
Energy companies slipped 0.8 percent while crude oil declined after six days of gains that pushed prices up more than 12 percent. Transocean Ltd., Chesapeake Energy Corp. and Diamond Offshore Drilling Inc. slumped at least 2.6 percent.
Mattel Inc. rose 5.8 percent, the most in the S&P 500. The toy maker reported that sales declines slowed in its Barbie and Fisher-Price products, and the company posted a smaller-than-estimated quarterly loss.
Before it's here, it's on the Bloomberg Terminal.
LEARN MORE