Thanks to Snowy Winter, Spring Wildfires Are Kept at Bay
Brian K. Sullivan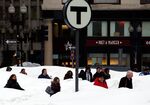 It turns out that snow has its uses beyond filling reservoirs in California and driving the city of Boston closer to the edge of insanity.
A good, long winter snow cover can make it harder for spring wildfires to form. Likewise, a lack of snow, which afflicted a large part of the U.S. this year, can make grass fires a little more likely, said Dennis Todey, South Dakota's state climatologist.
Without the snow to knock it over, the grass stays standing, Todey explained in a conference call with reporters.
"It burns better," Todey said.
Spring is the season for wildfires to start cooking throughout the U.S. Plants have dried out over the winter and new growth hasn't gotten going in a lot of areas, which means there is fuel to be burned.
Through Thursday, 9.3 percent of the contiguous U.S. still had snow cover, according to the National Operational Hydrologic Remote Sensing Center in Chanhassen, Minnesota. Most of that is in the Rocky Mountains and northern New York and New England.
Getting back to the grass, though, there are a couple of other things that happen when a good layer of snow flattens it out over the course of the winter.
First off, it mats together and that actually makes it harder to burn, Todey said. Then, when it's closer to the ground, the moist soil gives firefighters a little extra help in keeping things from spreading.
Fire Conditions
Factors other than snow also play a hand in making it easier for fires to start and rage out of control. The National Weather Service issues red-flag warnings when low humidity, strong winds and heat combine in a region. Such warnings were posted Thursday in parts of Southern California, Texas, New Mexico, Arizona and Colorado.
"Weather and fuels will always drive fire behavior," said Robyn Broyles, a spokeswoman for the National Interagency Fire Center in Boise, Idaho.
Through April 10, there have been 11,500 fires burning 263,000 acres (106,000 hectares), Broyles said by telephone. This is less than the 10-year average of 16,000 scorching 583,000 acres. Broyles said weather played a role in keeping the numbers below par.
"The East Coast had a wet and cold winter and that includes the southern-area states," Broyles said. "Typically during this time of year they are in their spring fire season."
At last, an upside to all the snow that fell in New England this year.
Before it's here, it's on the Bloomberg Terminal.
LEARN MORE