Teva Is Exploring Mylan Bid to Create Generic-Drug Giant
Ed Hammond, Manuel Baigorri and David Wainer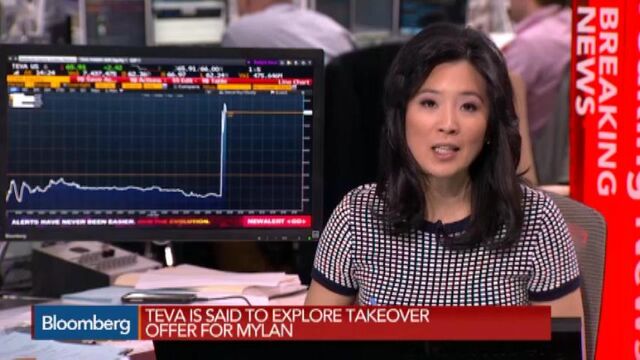 Teva Pharmaceutical Industries Ltd. is exploring a takeover offer for Mylan NV, people with knowledge of the matter said, in a move that would create a global generic-drug giant.
Teva hasn't made a formal approach yet, the people said, though Mylan is aware of the Israeli company's interest. Teva is evaluating the purchase internally and has also approached advisers about the potential bid and financing, the people said, asking not to be identified discussing private information.
The deliberations may not lead to an offer, the people cautioned. Mylan would be a very large purchase for Teva Chief Executive Officer Erez Vigodman, who has been in the position for just over a year. Also, Mylan earlier this month set up a mechanism under Dutch securities law that could make a takeover more difficult.
A Teva purchase of Mylan has long been anticipated by analysts who see a combination of two large generic drugmakers as an opportunity to boost market share and cut costs. Mylan this month made an unsolicited $28.9 billion bid for Perrigo Co., which many see as a trigger for Teva to act before Mylan becomes an even larger target.
In a statement Friday, Mylan said it is committed to a deal with Perrigo and not interested in a sale to Teva.
"We have studied the potential combination of Mylan and Teva for some time and we believe it is clear that such a combination is without sound industrial logic or cultural fit," Robert J. Coury, Mylan's executive chairman, said in the statement.
Denise Bradley, a spokeswoman for Teva, declined to comment on the company's interest in Mylan.
Takeover Spree
After its shares gained 18 percent this year in Tel Aviv trading, Teva has a market value of about $57 billion.
Mylan rose 4.5 percent to $69.82 a share at the close in New York, giving it a market value of about $34 billion. Perrigo dropped 2 cents to $198.98.
The pharmaceutical industry has been in the grip of a takeover spree -- as companies look for new products and pipelines to offset a fall in sales. Teva is no exception: The company's top selling drug, Copaxone, will compete with generic copies this year, and its executives have been vocal about their appetite for acquisitions.
Novartis AG's Sandoz unit on Thursday won approval to make a generic version of the multiple sclerosis treatment. Mylan has also sought approval to market generic Copaxone, though its version hasn't been approved yet.
Before it's here, it's on the Bloomberg Terminal.
LEARN MORE