Teva Can Preserve $5-a-Share Earnings Goal With Mylan: Real M&A
Tara Lachapelle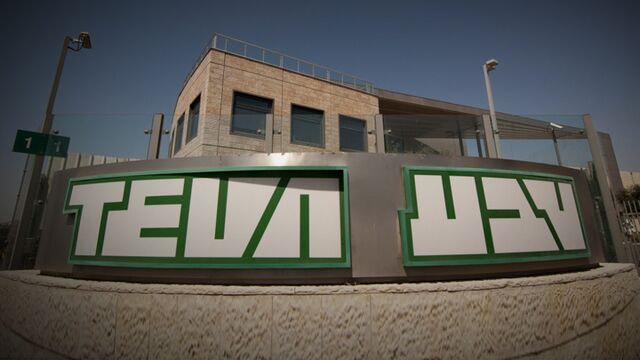 There's no better deal for Teva Pharmaceutical Industries Ltd. right now than Mylan NV.
Teva is evaluating a purchase of $34 billion Mylan in what would be the biggest pharmaceutical acquisition so far this year. It comes after months of analysts saying Teva should consider such an acquisition to help offset the drop in revenue and profit that's expected after generic copies of its top medicine, Copaxone, hit the market. Just Thursday, a team of two drugmakers said they won U.S. approval to market their generic version. Mylan is also seeking approval to sell generic Copaxone.
Teva "should make the aggressive, wise, and value-creating decision to move on Mylan," Ken Cacciatore, an analyst at Cowen Group Inc., wrote in a note before Teva's deliberations with Mylan were reported Friday.
With Teva's other formulation of Copaxone also at risk of generic competition, the company would have to find ways to lower costs just to maintain its annual earnings of about $5 a share while it waits for drugs still in its pipeline to contribute to profit, Cacciatore says.
Buying Mylan would instead immediately boost profit. For instance, an all-stock offer valuing Mylan at $90 a share -- about a 30 percent premium -- would deliver annual earnings of about $5.60 a share next year, according to data compiled by Bloomberg, using Cacciatore's estimate for $2 billion of synergies. If Teva could partially fund the transaction with cash or debt, the earnings gain would be even larger.
'Strong Motive'
Teva hasn't made a formal approach yet, people with knowledge of the matter said Friday, though Mylan is aware of the Israeli company's interest. Mylan, which announced plans earlier this month to buy Perrigo Co., said in a statement that it's committed to the deal and isn't interested in a sale to Teva.
Teva's American depositary receipts rose 2.2 percent Friday. Mylan surged 4.5 percent to $69.82.
"Financially, there's a very strong motive to pursue this kind of acquisition because it would be highly accretive to earnings," David Steinberg, an analyst for Jefferies Group, said in a phone interview following the report. "Strategically, there are some pluses and some minuses."
Pros, Cons
On the one hand, a large transaction such as Mylan gives Teva the chance to diversify away from Copaxone. It would also provide instant growth in earnings because of the added products and cost savings, Steinberg said.
The downside: It doesn't ensure long-term growth and a higher valuation for Teva the way a purchase of a "higher-margin, longer-duration proprietary" drug would, he said. Both Teva and Mylan mainly make generic drugs, which aren't as profitable as branded medicines and in some cases have become commoditized.
Teva shares currently trade for a lower multiple than most of the company's peers. The company was valued Friday at about 11 times what it earned before interest, taxes, depreciation and amortization in the past year. The 20 biggest drugmakers globally command an average valuation of 21 times Ebitda, and Mylan's ratio is 22, according to data compiled by Bloomberg.
Teva's $3.1 billion acquisition of Auspex Pharmaceuticals Inc. announced in March is an example of the type of purchase that can boost value over the long run. Auspex doesn't have any revenue yet, but analysts were projecting its experimental treatments that curb tics and other movement disorders could generate more than $500 million of sales beginning in 2020, data compiled by Bloomberg show.
Multiple Deals
Steinberg says Teva could pursue both a large takeover like Mylan to get the immediate earnings boost and then another smaller one similar to Auspex to help improve its stock-price multiple over time.
Now, the question is whether Mylan would consider dropping its plans to buy Perrigo and sell to Teva instead. If Teva can't make a persuasive enough offer, it would have to go hostile -- meaning it would take the bid directly to Mylan's shareholders. Hostile deals are rare, and it's unclear whether Teva is willing to go that route.
"It boils down to how badly does Teva want the assets, and how far are they willing to go in terms of price?" Steinberg said.
Before it's here, it's on the Bloomberg Terminal.
LEARN MORE